Autumn Makeup Tips: Matte Bronzers & Contours
September 25, 2013
Impossible as it may seem, Autumn/Winter is almost here and it is just as vital to revamp your makeup wardrobe as it is to switch up your clothing hence we bring to you, our Autumn Makeup Tips that will transition you into Autumn smoothly. Summer whizzed by like a dream and shimmery Bronzers dominated our make-up bags and beach trips. It is important to understand the difference between Bronzer and Contour shades however. Bronzer's are geared towards replicating a golden glow on your face or add a dash of reddish hue on the cheeks to enhance or fake a tan depending on your preference. Hence they are usually accompanied by specks of glitter and shimmery particles so you look sun kissed and radiant.
Contour shades on the other hand, also known as bronzers most of the time, are matte shades that are especially formulated to mimic the undertones in your skin tone. This enables one to trace the hollows of the cheeks, sharpen the jaw line, chisel the nose bridge, giving the illusion of an overall slimmer face. If you choose the shade of your contour shade correctly, it can work wonders at transforming your face without it looking overtly fake, orange or muddy brown as many bronzer's do.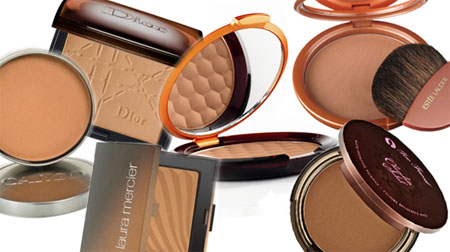 Especially as the colder, gloomier months will greet us soon, it is wise to ditch the shimmer and opt for matte formulas and subtle tones that work in sync with your skin tone and are school and office friendly, meaning non reflective in the scrutiny of the harsh indoor lighting. The texture has also an important role to play as that will decide how well the product blends in with your skin or over foundation.
Creamy consistencies such as that of the cult favourite Soleil Tan de Chanel that actually mimics the shadows of the face for a variety of skin tones is perfect for the colder season. Having said that, the good old powder contour is a foolproof option as long as it is finely milled. Liz Earle's Natural Glow Bronzer and The Body Shop's Honey Bronze Bronzing Powder are great options due to their silky consistency. How pigmented a contour shade is highly depends on your skills and personal preference. For everyday use, it is better to opt for a moderately pigmented product which can be built up for greater intensity.
Contouring is not only a Make-up Artists favourite technique but also a great way to get rid of winter blues by adding a pop of colour on your face, making yourself look polished and put together in a matter of seconds! Just make sure to choose products with a hint of grey and taupe in them as that is how the shadow naturally falls on your face. Suck those cheekbones in like a pro and put your best Autumnal face forward!
If you have a special occasion, wedding or night out to head out to and you're not a pro at party makeup, don't risk it. Get a professional makeup artist to do it for you, especially when it comes to bronzers and contouring.