Back to School Hair Tips & Tricks
September 14, 2013
It's time to hit back to school/college/University with our hair tips & tricks and whether you are looking for some new investment in hair care and styling products, our must-haves will last all year around and help hair look naturally pretty, protected from heated tools and hydrated in Winter.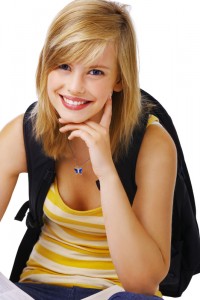 Sleek it up – If you suffer from frizz prone hair, do not be tempted to skip products such as creams or serums that will calm your hair down, keep it tangle free and manageable. Try not to only be swayed by the marketing blabber on the products that label it as 'anti-frizz' as that can sometimes be a bit too oily. Go ahead and splurge on it if you have dry hair but for those of you who tend to get an oily scalp quite quickly, try out Dead Sea Magik's Hair Serum that is in fact a white cream like fluid that penetrates the hair follicle and leaves hair smooth and tame.
For a glossy mane – Containing Calendula Oil and Green Tea extract, this all natural Organic Control System Spray Gloss contains antioxidants that are good for the hair, adding a discreet layer of shine. What is great about it is that hair also feels nourished from within instead of just superficially glossy. The spray bottle makes it a dream to apply and the light, refreshing formula turns any day into a good hair day. Just chuck the dinky bottle into your bag and spray for extra shine on the go.
Spa zone – Looking for salon perfection then look no further. Gielly Green Repair Mask is formulated by a team of experts who have salons all over U.K . The deliciously scented mask is free from all chemicals, parabens and silicones and leaves hair feeling light, deeply nourished for days and repaired from scalp to the roots. If you are looking for a cheaper alternative, Andrew Barton of the 10 years younger fame also has deep treatment masks in his range which is available to purchase at Asda. Incorporate hair masks in your regime at least two times a week for an overall healthy appearance.
Celebrity volume – Osis dust it mattifying powder by Shwarzkopf is the best of all volumising powders out there, delivering intense, long lasting volume around the crown area. Dust a handful of it at the roots and massage whilst blow-drying hair upside down as it will prep the hair for styling.
Ditch the heat – No matter what time of the year it is, the rays of the sun can damage the hair hence having a heat protectant in your collection is a necessity as they help against the damage of heat tools as well. Aussie's 'Take the heat' range has brilliant creams and sprays that will help you sizzle without the added heat!