Heatwave Beauty tips to combat the sun, heat & humidity
July 17, 2013
With temperatures plummeting up to 30 degrees with no signs of fading any soon, the lack of air and the prevalence of humidity calls for extreme, clever measures when it comes to heatwave beauty tips.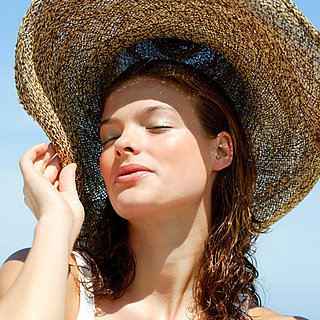 Do your pores look larger since the past few weeks? It's because the sweat glands are more active and when combined with all the sweating from the sun, there is a lot being accumulated into those pores, expanding their size. Rubbing ice all over your face at least once a day will not only rescue you temporarily from the extreme heat but also will also tighten skin, shrink pores and balance the level of oil production in the skin, making a great make-up base.
Coming to make-up, try and skip Foundation, Tinted Moisturiser or even a BB Cream as whatever you choose to wear will all melt and glide off your face creating a mess and nothing else. Plus you want your skin to breath and not be clogged under a mask of make-up at least in this weather. Focus on creating the perfect brows with threading, slicking on some waterproof mascara or getting semi permanent mascara done to give your eyes definition, a gel or liquid blush for a pop of colour on the cheeks, a light lip stain or lip balm to define that pout and if you want to cover up, rely on a powerful concealer to hide under eye circles and any blemishes.
Keep a facial mist or a facial spray handy in your bag to cool you off when you're out and about. Most of these contain spa water, anti oxidants and a number of anti-ageing and naturally cooling ingredients which work wonders for your skin. Have you heard about SPF in spray format? You can easily get these to spray liberally on your hands and legs when on the beach or in the park. If you're worried about topping up SPF regularly, a spray would be your best bet.
Eyes can suffer a lot in this extreme weather especially if they are prone to getting irritated due to allergies. Keep an eye spray handy if you feel your eyes feel dry, itchy or irritated. Always keep them moist and protected under sunglasses. Embrace the geek chick look and avoid wearing contact lenses in this weather which can dry and irritate eyes even more. If you regularly indulge in facials, don't ignore the delicate and hard working eyes and give them a much needed facial. A CACI Eye Treatment would replenish moisture, nourish and regenerate as well as firming and tightening the area around it.
Spray an SPF on your hair, detangle them with a tangle teeser and get your texturising sprays outside. Ditch the heated hair tools and opt for braids and texturising sprays to get that boho chic, scrunchy look. Prevent your hair colour from fading and opt for colour maintenance shampoos and conditioners.
Lastly, keep your skincare and make-up in the fridge if possible to prolong their wear in the Summer and for a cool treat when they touch your skin!