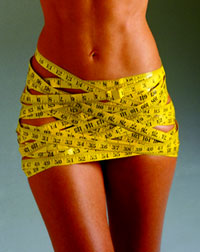 Forget those who have told you that spot reduction is impossible. A fad diet will only make sure you lose those extra pounds and baby fat that you have been piling on due to lack of exercise or excessive junk food.
The rest of the fat and muscle content and placement on your body is based according to your age, height and genes and sometimes can take more than a strict diet and workout routine to budge, let alone show a drastic difference such as inch loss.
Of course a sensible diet and an effective workout routine are necessary if staying in shape is important to you. But if there are times when you have felt you are not achieving the weight loss results you had in mind, then a Body Wrap treatment is just perfect for you!
How it's special is that it has the ability to target specific areas of the body such as those bingo wing arms, thunder thighs,  muffin top hips and stubborn buttocks – the areas that are first affected when you start putting on weight and are the last one's to budge by a generic weight loss plan.
What is a Body Wrap?
It is a treatment during which a hot cloth is wrapped all around the clients body, with an intention of draining out the excess fluid and toxins. It also works as a treatment targeted at cellulite reduction by smoothing out those dimply areas and as a body detoxifying treatment by flushing down toxins. Lesser known fact is that the treatment also promotes lymphatic drainage and encourages faster metabolism.
At Shumaila's, we recommend a total of 6 sessions to ensure you can witness maximum results in your body shape but if you are looking to lose a few inches quickly to flaunt at a special occasion such as a wedding or for a bikini body at a holiday on the beach, then call us now for a booking so we can get started with your single Body Wrap session for immediate slimming results.
Other benefits
With many other accompanying benefits such as tightening and toning the skin, extreme hydration, improved blood circulation, healing muscle strains and sprains and overall rejuvenation and relaxation, a Body Wrap is a complete unwinding package that will leave you feeling like a different person altogether.
Not only will it provide the much needed kick that your body needs to achieve a leaner shape but it's also great as a weight management treatment now and then to compliment your healthy lifestyle and to ensure maximum weight loss, spot reduction and inch loss that is otherwise difficult to attain.