Botox: The instant facelift in a syringe the celebs swear by
January 9, 2014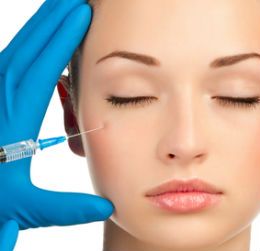 It's January and we're all feeling one year older, and probably a few pounds heavier, with our wallets the only things feeling lighter after the pounding they took during the frenzy of the Christmas shopping season.
But don't let those New Year's good intentions go to waste, why not make this the year you decide to do something positive about one aspect of your appearance that you're unhappy with?
Turning back the clock is something nearly all of us dream about, at least once we get past our 35th birthday, but it doesn't have to remain a dream when there are now so many purse friendly and affordable ways to improve our looks.
One of the very best time reversal tricks is Botox, the secret weapon in nearly every ageing celebrity's arsenal, and it's no wonder either. This potent little powerhouse has the potential to make lines and wrinkles vanish, smoothing creased foreheads and erasing crows feet, and even preventing new expression lines from forming.
Botox treatment costs are now shockingly affordable, with the procedure costing £250 and under for one treatment area at most licensed clinics and practitioners, with results lasting a good 9 months.
A small price to pay for a treatment that leaves you relatively wrinkle free,since Botox jabs have the ability to eradicate up to 95% of wrinkles and crease marks, when applied properly by a qualified clinician.
Botox injections are not just a New Year's quick fix for looking great in a flash either, think of them as more like a year round complexion investment, since the substance gradually weakens the muscles that cause those bothersome furrows to form, eventually causing them to atrophy entirely.
This is good news for your skin, as it means new wrinkles can't form and the time between Botox treatment is dramatically extended, saving you even less, something your wallet will definitely thank you for.
Combining Botox with Dermal Fillers, such as Restylane or Juvederm, is fast becoming the new way the Stateside celebrity A-List are choosing to hold back the march of time, as opposed to aggressive and often unnatural looking plastic surgery.
Dubbed "the liquid facelift", the practice is becoming more common this side of the pond too, and if you want to emulate the Hollywood elite, it shouldn't be too hard to find a UK practitioner skilled in administering both types of injectables who will work with you to achieve your desired results.
Botox, along with other injectables, is at the forefront of the new wave of non-aggressive, non-surgical, esthetic products that are changing the nature of cosmetic maintenance. Soon regular Botox injections will become as normal a part of our beauty regimes as our skin care or our hair straighteners are.