Bridal Wedding Makeup Artist Tips
March 2, 2014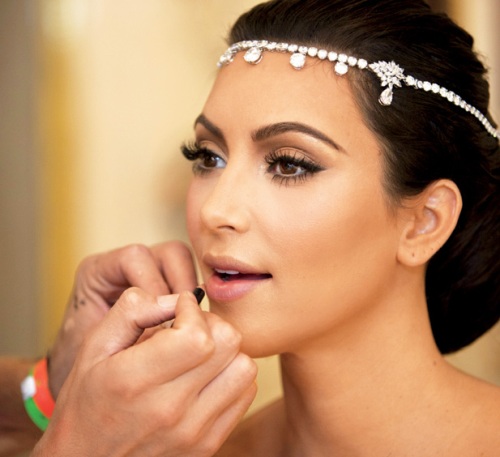 Now that the wedding season is here come Spring/Summer, it is time to start booking venues, shortlist catering, select a sparkly ring and choose a limelight grabbing wedding dress for the special day if you're planning to get married this year. The airy weather and bright sunshine with little chance of rain makes Spring/Summer the hot favourite months for wedding season. Being girls of course, wedding makeup will always be high priority on the to-do list. Whether you're opting for doing your own make-up like Kate Middleton aka Duchess of Cambridge did for her royal wedding or playing safe by hiring yourself a bridal makeup artist, below are our tips that should learnt by-heart for bride to be's in their pre-wedding months.
Choose your own base products. Always test out what foundation textures and colours will suit you best by visiting as many makeup counters as possible. Ask for samples if possible and photograph them on your face with flash and in daylight without flash. This will give you a basic idea as to how you would look wearing them at the wedding venue and at a photography session at the park.
Try and wear a white t-shirt when swatching make-up shades on your face to get an idea as to how much colour you'd need on your face with a pale outfit. If you cannot find your perfect foundation texture or shade, then a bridal makeup artist can always come at your rescue but if you do like something, then it's a great way to suggest these products to your wedding makeup artist to include on the wedding day.
Focus on the eyes. However bland and boring you may leave your peepers to look on a daily basis, it's a big no-no to opt for a similar look for a wedding day. Photography flashes and harsh artificial lighting have a tendency to make eyes appear smaller and go unnoticed. To look bright eyed and have all the attention on your peepers, opt for eyeshadow shades that will compliment your natural eye colour and make your eye shape stand out.
Eye liner and lashes play an important role in re-shaping your eyes for the wedding day. Choose an eye liner shape to make your eyes look further apart, close together, feline feminine or almond shaped. As for lashes, play around with different lengths and thickness months before the wedding day to see what you're naturally comfortable sporting. Full strip lashes can appear dated or a bit too loud for a majority of brides. Opt for individual lashes instead, nestled in closely between natural lashes for a seamless effect.
Do not be trend-led. Taking inspiration from catwalk models and celebrities will only work if you can rock the seasonal look as boldly as them or if your features and skin colour bears resemblance to these inspirational ladies. Make a board online or in your room to pin inspirational images of makeup you'd like for you wedding day. Short list the looks that remind you most of yourself but a more polished, sophisticated version and settle on that. This also includes not letting a makeup artist hijack your look or decide completely as to what looks good on you. Remember that your wedding day is the last occasion where you'd want to experiment and surprise your other half with a quirky look. Put together a brief and present to the bridal makeup artist to achieve the desired look.
Ensure your bridal makeup trial is at least 3 to 5 weeks before your wedding day. This will make sure there's no rushing around and also ensure that's it's not too early for a trail, in case you decide to put on a fake tan just before the wedding day!