Derma Roller Acne Scar Treatment as featured in Embarrassing Bodies
March 6, 2014
Acne itself is just not embarrassing and difficult to deal with but so is Acne Scarring which can leave behind a lot of tell tale signs. These are deep scars that take layers of skin to get through and peel. Hence it generally takes a lot of time to fade, especially if you only depend on skincare products. Glycolic acid is great on it's own as a peeling agent and so is Salicylic acid at killing bacteria and prevent new blemishes from forming. However these will work at a much slower rate than expected. If you are agitated, under confident and want a speedy recovery from acne and acne scarring then Derma Roller is the way to go.
It helps cause small injuries to the skin which makes it think it's injured. This triggers a response system within the surrounding skin cells which start lending a helping hand to skin with acne scarring. This is the initial recovery process and depends on the needle length. This will determine how quickly your acne scars will fade. Derma Roller needles can come in sizes such as 0.5mm, 0.75mm, 1mm, 1.25mm and 1.50 mm. The deeper the needle, the more effectively it can help the scar recover and make skin go back to normal in texture and pigmentation.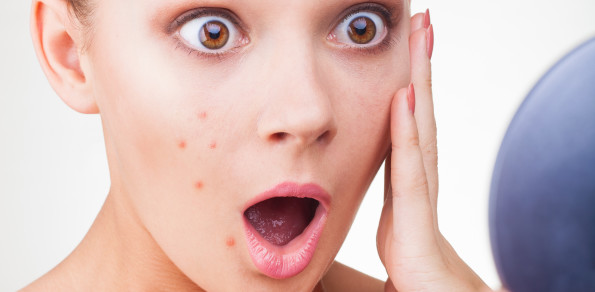 The beauty of Derma Roller is that it can be used at home in a simple rolling motion, to and fro, vertically and diagonally. Applying an aesthetic cream in advance, 30 to 45 minutes prior to the treatment, will ensure there is minimal discomfort. If you are carrying out the treatment at home, you will be required to use a needle of 0.5mm and under. If you choose to get the treatment done at a salon under a professionals supervision, then a needle size of 0.5mm and above will be deployed which is capable of fading scars 3mm deep into the skin.
There are no reactions caused by using Derma Roller which is the best part about it. Just keep a close tab on hygiene and disinfecting the handheld device and that's about it. You will notice some redness on the face after use, we suggest rolling it for 20 minutes on different areas of the face however the redness is temporary and should subside within a few minutes or hours depending on your skin colour and skin type. Skin barrier repair cream is prescribed after Derma Roller use so it nourishes and protects the skin while it regenerates. SPF is necessary to help delicate skin stay protected from harmful UVA and UVB rays.
An added benefit of Derma Roller treatment besides fading acne scars is that it helps making skin stronger by reinforcing the collagen and elastin levels. No more acne scars peeking through layers of makeup, as Derma Roller treatment will give you the confidence to flaunt your bare skin with ease this Spring/Summer. Hiding your face between layers of hair and not looking people in the eye during conversations will be a thing of the past as Derma Roller shows drastically visible results in just 2-3 months of regular use. As featured on television programme Embarrassing Bodies, Derma Roller is the only safe, permanent and guaranteed treatment that works for acne scar removal.