| | | |
| --- | --- | --- |
| Treatment | Price | Time |
| Deep Cleansing Facial (for blackheads) | £35.00 | 45 minutes |
| Customised Treatment (according to your skin) | £45.00 | 55 minutes |
| Brightening Facial | £45.00 | 55 minutes |
| Anti Ageing Facial | £45.00 | 55 minutes |
| MediBac (for adult acne & blackhead) | £45.00 | 55 minutes |
| UltraCalming (for sensitive skin) | £45.00 | 45 minutes |
| BioSurface Peel (for acne scars, pigmentation, fine lines) |  £60.00 | 30-55 minutes |
Call us to find out about any special offers that we may have
Types of Dermalogica Facial Treatments we offer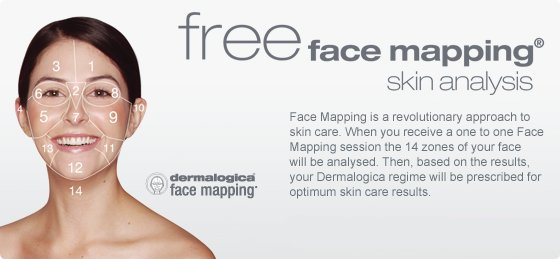 What makes a Dermalogica Facial different?
Face Mapping is one of the vital aspects that Dermalogica Facials consist of. Our trained therapists will scrutinise all 14 zones of your facial landscape by sight and touch while questioning you about your health, lifestyle and skin type. This process will identify detailed skin concerns, how your skin has been in the past, how it is now and how we can help you make it the best it can be in the future. The therapist will jot down the skin condition/concern on a printed facial map, use that to select an appropriate facial treatment, suggest suitable Dermalogica products to extend the effects of your facial and hand the face chart over to you for future use.
No two clients we come across have the same skin. Not only that, we cannot expect uniformity in a patients skin type as it is more likely that you suffer from different skin types in different areas of your face. Hence a Customised Treatment is what we highly rely on when it comes to Dermalogica Facials in particular. Depending on your skin time, you are likely to fit into the below categories for your facial treatment or we can help you customise a tailor-made treatment just to fit your unique skin type.

 Book your customised Dermalogica facial in East London or Essex now!