Detoxifying Back Facial at Shumaila's
April 9, 2015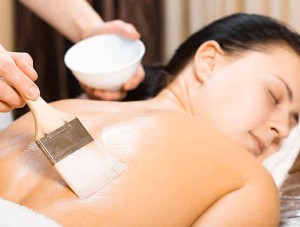 When you do a detox you cleanse your body from agents which harm your body. Toxins can exist everywhere just like you need to cleanse your body internally with healthy foods similarly you need to cleanse it externally with detoxifying facials. If you're looking to relieve your stress and rejuvenate your body, then Shumailas' Detoxifying Back Facial is the right option for you because here we aim to give your back the love it deserves. At Shumaila's you will be given deep back cleansing to remove extra oils from your skin. Your dull skin will be exfoliated away and you will have a glowing and smooth back in no span of time. Apart from these we have outlined some of the benefits of Detoxifying Back Facial for you so lets have a look.
Boost Your Energy
With Shumailas' Detoxifying Back Facial you will feel more energetic than ever. This may look implausible to you, but with the help you massage in our detoxifying program you'll get a natural energy boost with blood circulation in the body.
Strengthen Your Immune System
Research postulates that when you detoxify your back with cleansing and relaxing facial then you feed your skin with the moisturizer it needs. Detoxifying helps your body to strengthen your immune system because of the eight flow of blood and proper hydration.
Improved Skin
Summer is round the corner and there is no denial to the fact that your skin is your biggest asset which you need to protect. Detoxifying Back Facial at shumailas' makes your skin smoother and cleaner and also helps it to deal with back acne. If you need a perfect back this summer to wear your favorite bikini or tank-top, then you need to have a deep cleansing followed by gentle scrub and toner to restore the balance to your skin.
Anti-Aging Effects
Your body has to deal with a constant barrage of toxins due and these toxins contribute majorly to the process of aging. With the help of Detoxifying Back Facial you can fight off these toxins. with back facial at shumailas' you will witness a long term change in your back because we always strive to provide you the best.
Clearer Thinking
With our Detoxifying Back Facial you can pay attention to your stat of mind. Research postulates that the use of cleansing and meditation is often used too get back in touch with your body and mind. Many people who opt for detoxifying programs assert that while cleansing they shed off the sense of fogginess of their mind and can think clearly because they feel stress-free and relaxed.
Promotes a Sense of Well-being
Whenever you take a Detoxifying Back Facial you feel good. Health professionals contend that people often use detoxifying programs strategically to feel better or to start something new. At Shumaila's we aim to make you feel good and whenever you feel good, good things happen to you so set this stage of well-being with the help of your detoxifying program and improve all the areas of your life.