Diet, The Key to Healthy Hair
August 7, 2013
Your hair requires lots of vitamins and nutrients just like the rest of your body to stay healthy and in shape. If you aren't eating well and staying hydrated, no amount of conditioner is going to get your hair to where you want it. That's why it's super important to maintain a healthy diet when trying to repair and strengthen your hair. Here are some diets tips to help you achieve healthy hair: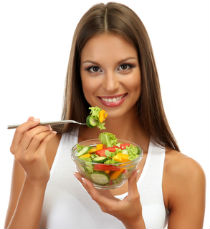 Fish
Fish contains a number of vitamins and minerals that all help in strengthening your hair. They also have omega-3 fatty acids which are a must for healthy hair. Fatty acids help keep your hair shaft and scalp moisturized which helps promote hair growth and shine. Salmon is an excellent option for both your health and your hair. I love fish, but I also try to take fish oil supplements on a regular basis to ensure that I am getting enough of the fatty acids I need. These supplements are a great choice for people who aren't a fan of eating fish. Walnuts are also an alternative to fish or fish oil supplements as they are rich in omega-3 fatty acids.
Green Tea
Green tea not only promotes a healthy digestive system and metabolism but it also contains polyphenols which aid in scalp health. It has also been known to help add shine to hair, giving it a much more lustrous appearance. Washing your hair with green tea can even help eliminate dandruff. I take green tea supplements frequently on top of drinking green tea just to make sure that I am getting enough.
Vitamin C
Vitamin C helps circulate oxygen to your scalp and hair follicles which can eliminate and prevent breakage. There are tons of foods that contain Vitamin C such as leafy, green vegetables and blueberries. I love eating fruits and vegetables but some people just don't like the taste of them. If you just can't manage to get your daily dose of fruits and veggies you can take chewable Vitamin C supplements. These supplements also promote a healthy immune system.
Biotin
Biotin supplements are rumored to promote hair growth and to help strengthen hair. After taking biotin for a few months I noticed positive changes in my hair. Eggs happen to be rich in biotin and Vitamin B, as well, so this is another option for getting your fix of biotin. If you are prone to acne and breakouts or have sensitive skin you may want to stay away from these supplements as they have been known to irritate sensitive skin. Instead, focus on other vitamins and nutrients that can help improve the condition of your hair.
Many of the foods that are good for your body are also good for your hair. A good rule of thumb for choosing foods to give you healthy hair is going with things that are considered healthy in general. Choosing healthier foods will greatly improve the condition of your hair.