Get Ready For New Years: Post-Christmas Skin Detox
December 29, 2014
All the pie hogging, sugar snacking, carbs feasting and booze overload can lead to a serious case of post-Christmas skin. Symptoms described are flaky, peeling skin, bloodshot eyes accompanied with eye bags, extreme sensitivity, acne around the hairline, dry flaky scalp and chapped lips to name a few. Below is our SOS guide as a last resort to get your skin sorted for New Years festivities. From switching up your moisturiser to facials for acne – we've jotted it all down.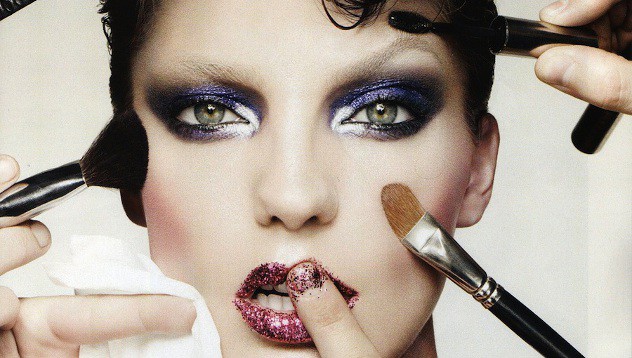 Treat Bloodshot Eyes
Lets start with the bloodshot eyes first. Caused by booze overload, dehydration, dry air, seasonal allergies, constant wear of contact lenses during the party season and the extreme change of climate, it's something that can be battled quickly and efficiently. No one wants to go out rocking those bright red nerves on New Years eve eh? Pop an antihistamine to cover base, use lubricating eye drops like they are going out of fashion, invest in a humidifier for your home sweet home and most importantly, don't forget to blink! Give yourself a break from 'screens' of all sorts for quicker remedy for New Years Eve.
Peeling Skin Remedy
Peeling, flaky skin is another post-festivities effect that is usually due to lack of exfoliation and slacking a little when it comes to regular twice-daily skincare. It can occur due to sleeping with make-up at night which can lead to build up of dead skin cells as well a lack of rich moisturiser. Amp up your use of AHA and BHA exfoliants to renew skin cells, load up on anti-oxidant based moisturisers that are intensive and packed of nutrients and vitamins which can replenish and restore it back to it's healthy supple state. Face Masks – especially skin renewing, brightening and hydrating ones work a treat when it comes to peeling, flaky skin.
Healthy Scalp How-to's
As for a flaky scalp, you don't want to be getting dandruff showering all over your little black dress on New Years Eve. Thankfully, it's much easier to resolve than skin. Although an extended part of it, all it needs is extreme hydration and persistent care. Stick to sulphate free shampoos or those rich in green tea and natural ingredients and go low on chemical laden shampoos and conditioners as much as you can.
Find a good hair moisturiser or grab your face moisturiser and taking a pea sized amount, simply massage into scalp during the night. Coat ends in olive oil and lemon to take care of split ends and plait it all up. Wash your hair the morning after and it should look and feel super glamorous for New Years celebrations!
Flaunt Luscious Lips
A dry irritation around the lip area, accompanied with minor redness can follow post-festivities. Using something like Dr Lipp's Original Nipple Balm for Lips can act as a natural yet potent way to protect, repair and nourish the skin around the lip area and ensure it looks lush, supple and plump for end of year celebrations.
Facials for Acne
Acne around the forehead can especially crop up post-Christmas and this can be due to many reasons. Perhaps using too much hair-spray or hair styling products which aren't compatible with your skin type during the party season. Not cleansing and exfoliating the forehead area thoroughly, sleeping overnight with make-up on and so on can be contributing factors.
Blemishes around the hairline can be frustrating to hide even with hairstyles and facials for acne can help drastically at controlling the situation by treating the root cause of it. Dermalogica MediBac in particular is designed keeping in mind adult acne. Facials for acne use acidic ingredients to decongest and exfoliate skin gently so you can witness the year end without having to pile on tonnes of foundation and concealer.