Halloween Skincare & Beauty 101
October 29, 2012
All that pumpkin carving and candy munching has more useful benefits to itself than simply increasing the waist line and promoting tooth decay. Did you know Pumpkin has innumerable skin care benefits such the Vitamin C in it which acts as an anti oxidant and works at fading unwanted pigmentation? Besides that, the Halloween favourite helps in skin cell turnover to leave skin consequently silky soft and smooth and is extremely hydrating and nourishing for those with flaky, chapped skin or suffering from eczema.
Skincare Benefits
The large melon also contains a tonne of Vitamin T and E which helps effectively at dealing with combination skin or one that is prone to breakouts or acne quite often. Rubbing the fleshy part of the fruit against the skin can help with counteracting inflammation, excess oil in the t-zone, redness, blemishes and shrinking pore size.
It's all in the colour
Whilst selecting pumpkins for decoration this Halloween, choose the brightest orange you can find as not only will it attract more attention in your neighbourhood but the shot of colour through it indicates the level of beta carotene it contains, an anti oxidant that protects skin in the long term from the damaging UV rays of the sun and premature ageing.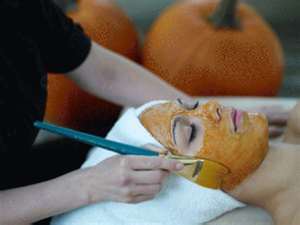 Pumpkin leftovers?
Don't throw away the leftover once you are done carving lanterns, baking pies and cakes or brewing lattes and instead cleverly incorporate it into your skin care regime by making yourself a quick DIY Face mask or Exfoliator! Pumpkin has recently gained attention from experts as being a great alternative to a glycolic chemical peel as it contains natural enzymes that get rid of dead skin cells when in contact with the skin.
DIY Tips & Tricks
Use sliced or pureed pumpkin as a face peel for oily-combination skin by beating in some egg, lemon and tomato puree alongside it
Use canned pumpkin mixed with a few tea spoons of sugar and a dash of cinnamon as a body scrub to give your skin that much needed glow for the holiday season. If it turns out good, why not store in a decorated jar as a present for someone in the holiday season!
Use a bit of fresh pumpkin extract as your toner to prep the skin and help it absorb other skin care better
Use the fleshy part of the fruit as a face mask, with a spoonful of honey and milk drizzled in for dehydrated skin
Finally, the low calorie garden vegetable can be integrated in various healthy home recipes alongside using it topically as a part of your skin care routine.
Lastly, keep your hands off that candy whilst the kids trick or treat as the excess sugar in such products is likely to damage skin's collagen level and elasticity casing lustre lacking skin and premature wrinkles.