Hangover Skin: Post Party Skin SOS
November 5, 2013
Banish the post party skin blues with these hangover-hiding, tried and tested tips.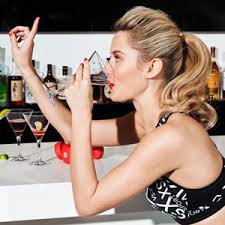 Party Trick: Look HOT, Not Bright Red! Avoid going from inside to out too frequently during the evening as the temperature extremes can cause vessels to contract and your skin to flare red. Apply a redness relief serum under your make up to help calm skin redness such as Dermalogica UltraCalming Redness Relief Spf20.
De-Puff Eyes – When you finally crawl into bed, prop yourself up with an extra pillow to avoid puffy eyes in the morning – sleeping slightly elevated helps to drain excess fluid out of the face.
Slough Away Your Sins & Wake Up! First thing in the morning super charge your body with a cold-hot-cold shower. Exfoliating is a great way to rid the skin of the dull, partied-out look, revealing fresh, glowing and smooth skin. For your body, keep a pair of exfoliating mitts in the shower at the ready as these will really get your circulation going which will help you feel more awake too.
Moisture Surge – Alcohol drains the body and skin of moisture, so replenish levels by using a serum containing Hyaluronic Acid under your moisturiser such as Dermalogica Skin Hydrating Booster as it helps the skin retain water (it can hold up t0 1,000 times its own weight in water making this an extra special trick to keep up your sleeve!).
Morning After Glow – Other than make-up, you can bring your skin to life by massaging your face using your fingertips. Apply moisturiser in firm circular motions to help stimulate blood flow and give your skin a rosy glow.
Tired Eyes – De-puffing eye creams do wonders for post party skin – also look for one that deals with dark under eye circles such as Dermalogica Intensive Eye Repair. For bloodshot eyes, have two chamomile tea bags wet and refrigerated, or a trusty chilled teaspoon on standby. When you wake up, hit the snooze button for 5 minutes and let these quick-fix treats de-puff your tell-tale party bag eyes.
Boost Radiance– A radiance booster applied over moisturiser for post party skin does wonders to make you look fresher and give you an instant glow.
Keep Make-Up Fresh – Keep make up to a minimum, do not apply eyeliner or mascara to lower lashes as this will draw attention downward instead of up. Your best friend will be a good under eye concealer, especially one with light reflective particles to help scatter light and minimize the appearance of dark circles.
Flush Toxins & Rehydrate – Do not drink any caffeine today but instead alternate drinking your water with plenty of green tea for its antioxidant properties. Also keep a water misting spray in your bag such as Dermalogica Multi Active Toner. This will help hydrate skin and is a refreshing pep-up when the tiredness slump kicks in mid-afternoon at your desk!