Holiday Beauty Essentials: Skin, Make-up & Hair
June 22, 2013
We are at the peak of the holiday season and long days of lying in the sun only call for one thing – a reason to create a bespoke beauty kit tailormade for your holiday needs. Of course bright nail paints to add a pop of colour, hair oils to keep frizz at bay and effective sun screen to keep your skin safe from the harmful UV rays on a holiday are key. But there are new products out there as well as beauty treatments that we feel should be included in the Holiday Beauty Essentials list.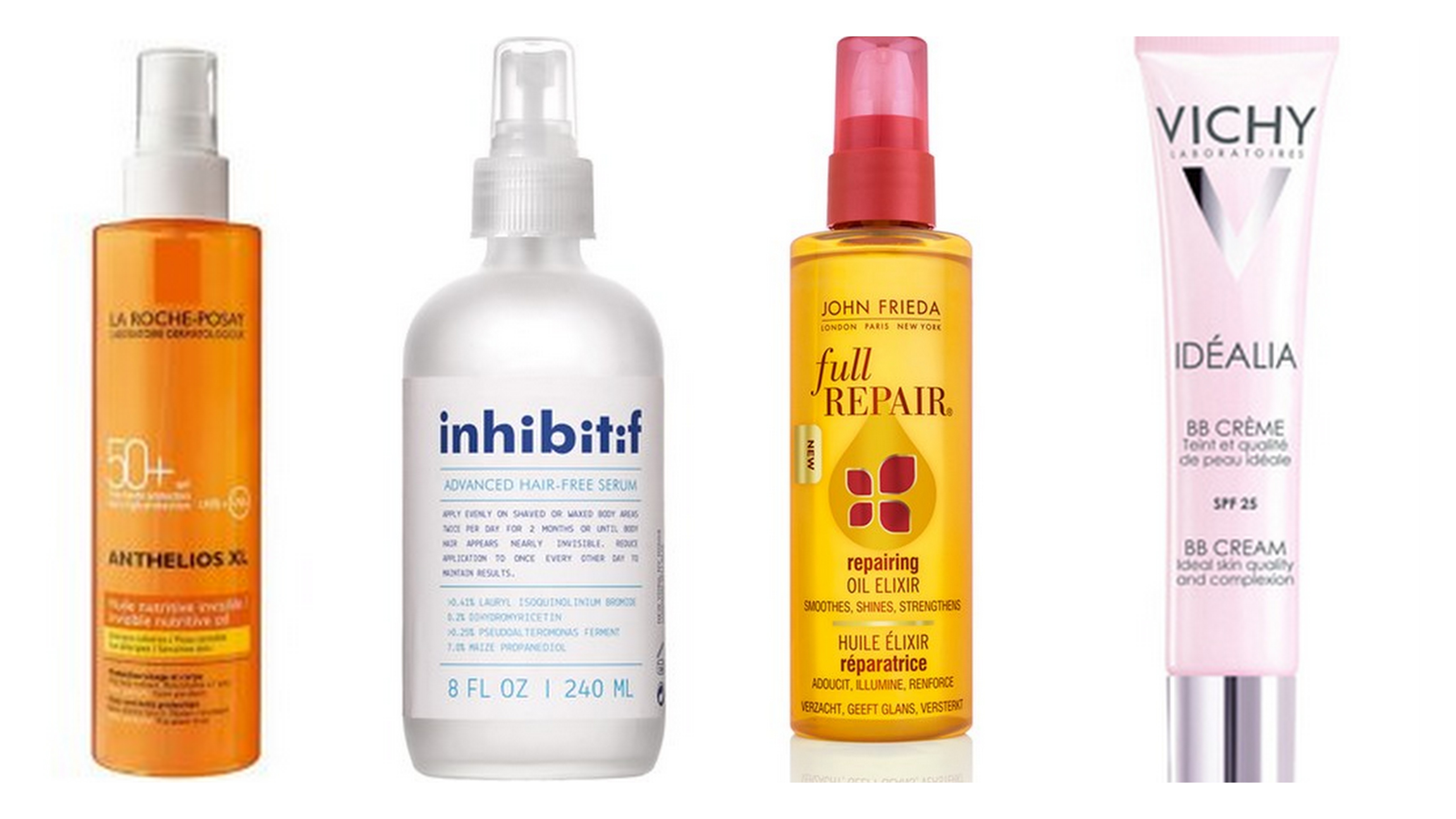 Holiday SPF
If you hate applying thick, goopy sun creams over your moisturiser and under your foundation and dread the white cast they tend to leave behind, then you're in luck as La Roche Posay have just brought out an Invisble Nutritive Oil of SPF50 in time for the holiday season. It's literally the highest protection you'll have against the sun in your vanity and it's light and fluffy oil texture with a pump dispenser makes it much easy to use the product. It also doesn't leave a white cast behind, can be used on the face and the body and acts as a moisturiser for inflamed, flaky skin which we usually tend to get abroad in varied climates.
Holiday Hair Removal
Inhibitif's Advanced Hair Serum is not the most practical thing you can carry on a holiday abroad but it's innovative formula can be sprayed onto shaved or waxed skin to reduce hair growth. Who want's to bother with peach fuzz and bikini line hair on a holiday? Instead take this holiday beauty essential with you instead of those five bronzers that you probably won't use. You can also opt for a Laser Hair Removal treatment weeks before your holiday for substantial and guaranteed hair reduction.
Holiday BB Cream
BB creams can be your best friends when holidaying abroad in the sun. They are moisturising, contain SPF, have skincare benefits and minimal coverage to give you that holiday glow and evening out skin tone oh-so-subtly. The last thing you want on a holiday is fully concealed, cakey skin. Our best BB cream picks are from La Roche Posay, Vichy and Biotherm. If you feel you cannot step out of your hotel room with just a BB cream as your make-up base, opt for beauty treatments such as Dermaroller, Microdermabrasion and CACI before leaving for your holiday. They will give you naturally even skin with faded blemishes, scars and age spots making skin feel younger, hydrated and ready to flaunt.
Holiday Hair Oil
Hair oils are essential to protect your locks from drying out or fading colour in the sun. They also help keep tresses tangle free, hydrated, glossy and flowy in the wind on the beach. There's no point having beautiful skin, a glowing face and a svelte body if you hair doesn't compliment it well. Invest in hair oils that almost every brand does these days. Our favourites are John Frieda, Loreal, and Moroccan Oil. If your hair unruly, difficult to manage, dehydrated, damaged and extremely curly, book yourself in for a sleek Brazilian blowdry treatment, a Permanent Hair Straightening session or a good old hair cut for brand new luscious locks.