How To Beat The Heatwave: Skincare, Beauty and Haircare Essentials
July 24, 2014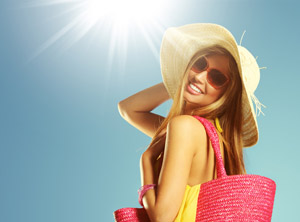 As lovely as the warm weather is, it is causing chaos for any skincare and beauty regimes. Not only can a heatwave dry out skin and hair but lots of make-up products can seem to melt in the heat, which makes them impossible to use – especially if you want to look prim and perfect for a whole day!
Of course, no one wants to look like a hot, sweaty mess so what can you do to make sure you always look your best, even in the heatwave that we are currently experiencing in the UK?
Great Looking Skin
It goes without saying that you should be making sure that you drink enough water each day however in the warm weather you should up your game and drink that extra bit more. Your skin will look dry and tired unless it is well hydrated. Topical skincare can only work so much if your skin health isn't up to scratch.
If you want to wear makeup then you should really look for a water-proof foundation, mascara and cream blushes. Products like Oxygentix Oxygenating Foundation are great because they are both water and sweat-proof so weather it's sweating it out on the beach or diving in the pool, your lashes and base will stay in place. This allows you to enjoy the sunshine without worrying about how the foundation looks!
Keeping Skin Cool
It is well worth look at getting some sort of cooling spray or refreshing spritz so that you can give yourself a quick spray if you do get too hot. Make sure that you use a good cleanser at the end of the day too as that is what will actually work hard at cleansing those pores inside out and getting rid of the makeup, grime and bacteria. Washing off all of the products you have used each day is the best way to make sure that your skin stays in tip-top condition. However hot it is, we highly recommend balm or oil cleansers for an intense cleansing effect as they work fabulously at dissolving impurities than gel or foam cleansers.
Hair Care
Your hair is likely to get dried out in the sun if you're not careful. There are different heat resistant products that you can use so it is worth investing in one of these that are best suited to your hair type. If you are going to be out in the sun all day then make sure that you wear a sun hat while you are out in the hottest part of the day. Get a leave-in conditioner too, as this will help protect your hair from being out in the sun all day and invest in new products such as scalp SPF to protect the roots of your hairs and prevent a flaky, itchy scalp.
Prevention is better than cure!
However your skin type, you must be used to dealing with heat wave since the past few years as we always get a sunny spell in the UK be it for a week or a month. Analyse your skin type, detect what category it falls under and how it reacts to a heat wave. If it dries out completely of all the moisture, then what you need is a moisture injecting facial such as Guinot Hydradermie Treatment a week before you can spot the sunny spell arriving. This will ensure your skin has that extra moisture already to prevent any drying, flaking or itching. On the other hand, if you know for sure that your skin will respond by clogging up pores and producing excess sebum, Dermalogica Deep Cleansing Facial is something you should resort to as a preventative measure.