How to Calm Stressed Out Skin: Skin Saviours
November 17, 2013
Stress is not just an emotional thing. It is proven that it can take a toll on your bodily health as well as skin if you don't take measures to keep it under control. Research suggests that 36% of women in the UK complain about blemishes that result on their skin after a stressful week of events and leads them to worry about them or being depressed. With so much going around in your life, skin is the last thing thing you need to worry about. Find below some skin saviours that will rescue stressed out skin and help bust those blemishes.
How to calm stressed out skin
First up, it's time to unclog those pesky pores. Whatever is causing the flare-up, the root is in the pores hence it's priority to get some salicylic acid running through them to get rid of any excess oils. Balanced skin meaning the chances of a further breakout is highly reduced. Clogged pores and congestion can be solved by using an electronic facial brush such as the Clarisonic for a squeaky clean feel or by using a salicylic acid face wash, toner or moisturiser.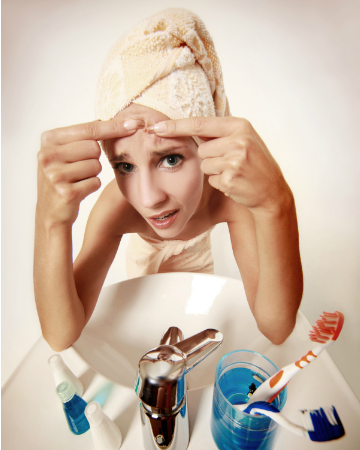 Next thing you want to do is nourish your skin, hydrate your spots instead of drying them out completely and spot treat. Every individual's skin is different specially under stress so instead of trying to dry out the spots in a harsh manner, nourish them and allow them to heal on their own. So do remember to moisturise with a green tea and aloe vera based moisturiser that is cooling, calming and soothing. Once skin is moisturised, you can then spot treat certain blemishes and spots by applying a manuka honey and clay based mask that will help it heal quicker. Tea tree oil based products also work wonders at getting rid of blemishes.
Use all your best and most effective skincare products at night. That is the time they will stay on the skin undisturbed and won't sweat off. Try and incorporate one anti-blemish skincare product in your night time skincare regime at least. Skin regenerating products and those that deal with scarring should also be gradually incorporated at this point. Blemishes once healed have a tendency to leave behind marks which you wouldn't want to deal with separately. So make sure to exfoliate with non abrasive, liquid exfoliants even when dealing with breakout prone, stressed skin. You want skin cell turnover rate to be at its maximum during this time.
No one will understand your skin better than a professional skin therapist. They have studied several skin types in their profession and know what products will suit you best. An anti-blemish, detoxifying facial will not only be great for your skin but will help lower your overall stress levels in a relaxing, therapeutic environment which can benefit your skin. Opt for a Red Wine Facial which is apparently great for acne prone skin or a Dermalogica Deep Cleansing Facial which will use dermatologist approved products that contain no soap or alcohol.