How to get the most out of Henna/Mehndi: Tips & Tricks
January 8, 2013
Henna or Mehndi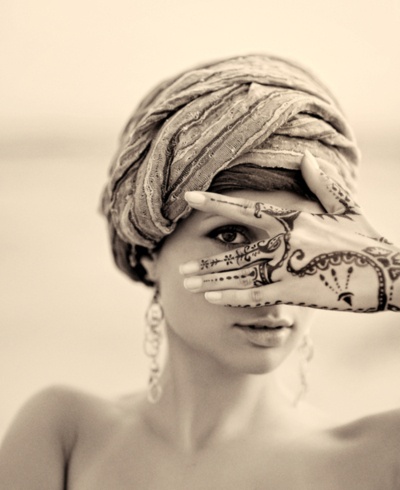 The
ancient art of Body Painting
has its roots decades ago using dye from the leaves of the plant 'henna'. What's amazing is that this is a virtually pain-free way of experimenting with tattoo designs, shapes and patterns on your body, without any commitment as it's dye fades away eventually within days. A more popular way of using it is in
South Asian weddings
where an entire ceremony is dedicated to it's application and in getting friends & family together.
1. Do not pick your henna paste off early. Yes it might be irritating for first timers or perhaps even might itch if you're not used to its application. Albeit all natural, a patch test is always suggested. However keeping your wet henna paste on for longer ensures a great pigmentation payoff.
2. Avoid water contact for at least 24 hours after application if possible. Why not have it applied on your hands, feet or any other body areas in the evening so you can sleep with it without the worry of water disrupting it's application or turnout. Resort to dry shampoo to freshen up hair without water if you're someone who cannot comprise with hair.
3. Don't allow direct sunlight when the henna design is still developing. It is wise to stay indoors after application and ensure plans for outdoors are reserved for the following day. It is body art at the end of day and precaution is necessary to witness great results!
4. Re-wet the paste several times with a lemon juice and sugar mist in the first few hours of fresh application when the henna is semi-dry, moist like in texture, which ensures the paste sticks to your skin.
5. 4-12 hours later when you remove the paste by gently scraping and rubbing, incorporate a bit of olive oil, Vaseline or any oil based lotion. Applying olive oil to the stain several times a day to prolongs the pigmentation of Henna that has transferred to your body and you can extend the life of the henna from 1 week to 2 or even 4 weeks.
6. It is best to avoid contact with chlorine, pool water, cleansers in general, any abrasives such as nail polish remover or skin exfoliator. Prior to the occasion that you want the prolong the Henna stain for, avoid exfoliating the body in general as that will only get rid of the skins layer, affecting pigmentation and the evenness of the Henna stain. Mild soap can do the trick just as fine until then!