Male Grooming London on a rise in Beauty Salons
March 28, 2014
Male Grooming London – Not a Taboo Anymore
Not so long ago men were derided for taking care of their appearance and applying moisturiser and now we actively encourage them and the only downside is when we realise they have been dipping into our expensive products because "it smells so nice and feels so good". At one time it would take a brave man to walk into a beauty salon, now they are there so often there are salons exclusively for men popping up everywhere.
You are hard pushed to find an ordinary barbers any more and the whole Mediterranean culture has reached out shores where a haircut is now accompanied by a shave including hot towels, fire and a selection of balms that have straight out of a Turkish holiday resort. This is a trend that is long overdue to be honest, and women haven't exactly played fair all these years in that they have hammered their bank accounts filling cupboards and shelves with an array of products at eye popping prices.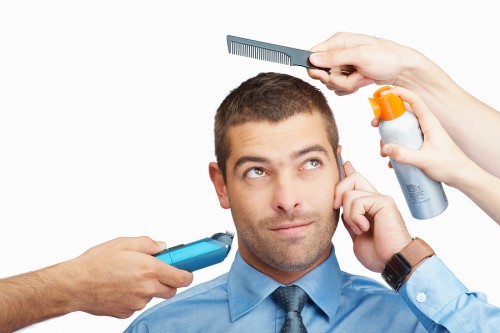 In other words; a woman does everything possible to stay looking as young as possible for as long as possible but men just had to get old. Now the times they are a-changing and far from it being a taboo subject it is now something men will openly discuss by the water cooler or in the pub. These are not men of a particular sexual orientation either, these are you every day men who want to keep their looks for as long as possible to, and there is absolutely nothing wrong with that.
Manicures, Massages & Permanent Hair Removal – The Popular Bunch
The first treatment that men received regularly and one that's taken a rise in the male grooming sector, although it did tend to start and finish at high flying businessmen, was the manicure. Polished hands, neat cuticles and buffed out nails doesn't have 'girly' written all over them and can surely benefit a man who wants to appear presentable. Men nowadays will not think twice before booking themselves in for a relaxing facial, eye brow threading or even a wrinkle-freezing botox unlike before. Monobrows are, thankfully, becoming a thing of a past as men have discovered they don't have to keep shaving that annoying bit in the middle that connects their eyebrows and have the hair permanently removed by laser hair removal.
Massages have never been more popular than now and many beauty salons offering massages as part of their services have reported a sharp increase in the number of men coming through their doors. Depending on your occupation and the general consensus towards living a healthier lifestyle more and more men are resorting to a good old, pick me up, body massage as a way to unwind after a tough day at the office as opposed to heading into the nearest pub. Whether it be a detoxifying body wrap, a stress relieving swedish body massage or an uplifting deep tissue massage, men are all up for it there days than ever before!
Modern women are impressed by the fact that men are taking care of themselves and couples are actually visiting salons together for their various plucking, waxing and pummelling. There are few areas of the country where trend this hasn't been made as welcome as others, and many of the older generation are far too stuck in their ways or simply think its too late to change the habits of a lifetime. One thing is for sure; we have a better groomed generation of British men than ever before and the metrosexual grooming culture in salons will only bloom further from here on.