Met Ball 2014 Beauty Favourites
May 10, 2014
The annual fundraiser is the ultimate show of fashion's highs and lows at the mid of each year and seeing that 2014 begun with interesting fashion and make-up trends on the runway, all we had to see was how the stars translated it onto the red carpet at Met Ball 2014. With 60's vintage being the theme for the ladies, there was a lot of class, opulence and elegance floating in the air. Below are the ladies that impressed us with their impeccable style and unmissable presence.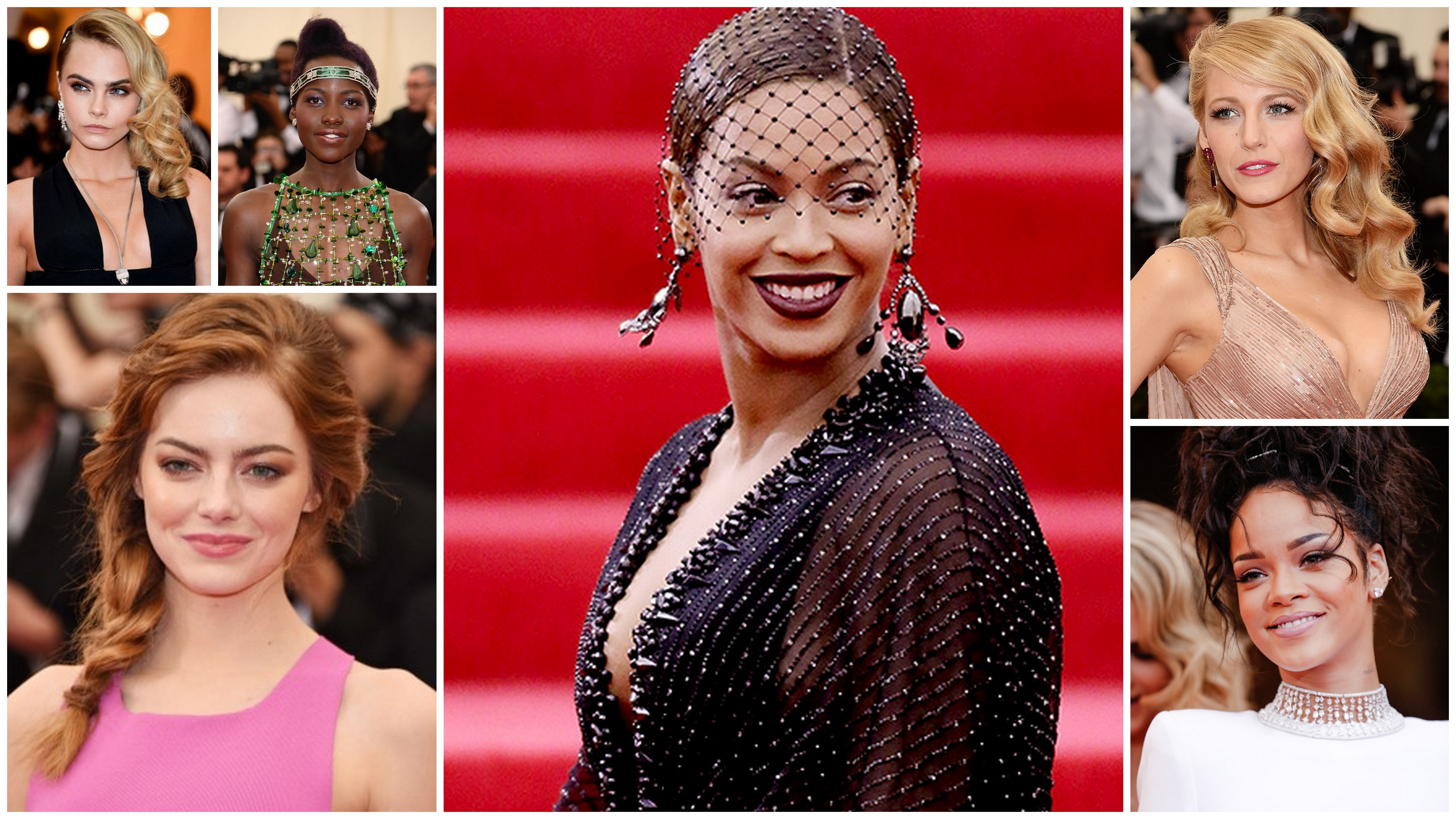 Beyonce. Queen Bey stole all the attention as she arrived at the Met Ball with the hubby. Her skin looked flawless with a very natural looking finish. Eyes were dusted with a translucent taupe eye shadow and we could definitely spot a veil of sparkle covering her skin, perhaps to reflect back in the light. We love how she kept her brows natural and her eye lashes minimalistic in order to let the bold vampy lip colour and the net veil do the talking. Finishing off the look with a deep side parting, slicked back hair and a gorgeous black outfit, Beyonce couldn't have looked better.
Blake Lively. Contrary to queen bey, Blake Lively from the Gossip Girl fame took the traditional diva look from the 60's a bit too seriously. With glossy tousled waves pinned on one side, full on lashes, porcelain skin and warm pink lips – she looked drop dead gorgeous. The shimmering champagne gown only added more oomph and sparkle to the look and made her look like she had just stepped out from a vintage movie.
Rihanna. The rockstar stunned the crowd with her tamer than usual choice for the red carpet. Sporting a crisp white gown that showed her back and midriff quite stylishly was a definite win-win! Her hair was put together in a voluminous, carefree manner in a top bun and her make-up showed hints of lilac and mauve on the lips and the eyes. We quite liked how she slightly deviated from the theme and instead made it all about 90's glamour. The make-up looked fresh, complimented her skin tone and brought out the green in her eyes.
Cara Delevingne. Sporting a black and white, cross back jumpsuit – the supermodel who has walked for top fashion and beauty brands globally was seen taking the retro theme and giving it her own quirky take. We love how she went all vintage and glamorous with the jewellery and hair and modern and chic with her outfit and make-up, it was almost a fusion that only she could pull off. With an all beige and bronze palette used on her face, she look sun kissed and healthy representing Spring/Summer with her trademark bushy brows and sparkling eyes.
Lupita Nyongo. Now termed one of the most beautiful women in the world, it's difficult to ignore this beauty despite of her daring and extremely bold choice this time. Her hair was twisted into a French bun that was dyed purple just for the day. She added a hint of purple to the eyes to keep the theme consistent and finished off with soft pink cheeks and a nude glossy lip. The overall look for us screamed tribal and futuristic but the elegant lady pulled it off with panache.
Emma Stone. Again deviating from the 60's theme and making it her own vintage compilation was the stunning Emma Stone who introduced a pop of colour at Met Ball 2014 like a breath of fresh air. Her high split flowy skirt and the cross back crop top in different shades of pastel pink and hot pink make her look vibrant, fresh, high fashion yet relatable. To tone down the feminine pinks in her outfit, her make-up was dominated by generous peach and bronzed tones that were high sheen and metallic. We love how her hair was carelessly put into a side plait to give an effortless yet ethereal feel.