Milan Fashion Week 2014 Beauty Trends
February 27, 2014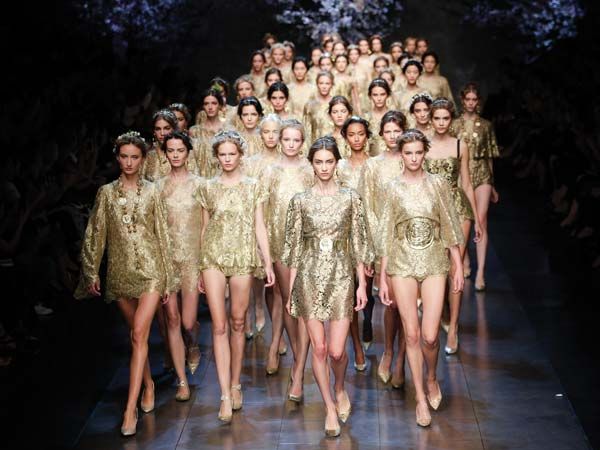 As we finally reach Paris Fashion Week, here's a look back at the previous Fashion Week Beauty Trends. The looks have been quite fresh with new additions brought along and some old classics given a modern twist with easily wearable street chic styles. With that said, there was a huge amount of variation at Milan Fashion Week 2014 but here are some looks that immediately feel in our good books.
Dolce & Gabbana impressed us with their populist approach to make-up at Milan Fashion Week 2014. Top Models were made to look healthy and radiant as per the brief. Their skin was made up to perfection with flawless foundation, seamless blended concealer and a good dose of illuminator slapped on top to demonstrate a faux glow. Feline Flicks and Strong Brows were an important part of the look as their make-up artist did not feel the need to make the models look artistically unpleasant.
At Marni however, things took at different turn as the make up and hair were messed up to compliment the feather and shaggy fur collection. Hair seemed to take a dramatic turn as it was waxed and then wrapped around the forehead to represent a birds nest or greasy hat hair. Although impossible to pull off in daily life, it can be taken inspiration from to recreate a sleek polished look like Kim Kardashian has been sporting recently, after her hair conditioning treatment. Taking away all focus from hair is a great way to emphasise facial features and give the look a modern, sophisticated aura.
Antonio Marras left models hair quite interesting in the shape of victory rolls that resembled wolf ears, thanks to their quirky little red riding hood theme. It was a hair trend that looked retro, glamorous and luxe at the same time. Paired with dark lips, matte skin and bruised like red glossy eyes, it was artistic perfection that we could take inspiration from for everyday wear. Perfect for an edgy evening look, simply create a minimalistic victory roll minus the wolf ears on the runway of course and pair with matte flawless skin. Leave eyes pale and devoid of any eye liner for that slightly swollen, just woken up look with light strokes of mascara. For the lips, keep them limited to deep, dark matte red.
You must have heard of Brazilian Blow Dry but have you heard of a Milanese Blow Dry? It's pretty similar but with a bit more volume around the crown area and that's exactly what Donatella Versace opted for at Milan Fashion Week 2014. For the high maintenance women, the models looked stunningly glamorous with their poker straight, thick hair that were enhanced with hair extensions to add volume around the crown area and for added length. Donatella likes to play safe and it's great as the look is super easy to replicate for a Summer day wedding, now that the bridal season is here. As for make up, the models were evenly tanned with bronze, peachy cheeks, nude lips and fully lined carbon black eyes. Quite reminiscent of Donatella's personal make-up and hair choices we say!