Mother's Day Spa Outing in London & Essex
March 5, 2013
If you stay in London & Essex and are looking for affordable yet qualitative deals for Mother's Day Spa on 10th March, Shumaila's Hair & Beauty will be your best bet. With our experienced therapists, serene private environment and professional quality products, you are guaranteed to feel pampered and have a lovely one to one time with your mum. Have a look at the Mother's Day deals we have specially picked out and discounted for this occasion.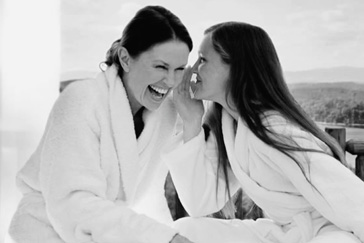 Semi Permanent Mascara or Eye Lash Extension
Every women looks like looking like a diva and receiving that special treatment once in a while and what better than fluttery, dreamy eye lashes. The Semi Permanent Mascara will hep you achieve that luscious dark lashes minus the crumbling and flaking from Mascara use on an everyday basis and the Eye Lash Extension will ensure your lashes are long, feathery and wispy to define your eyes better. The combination of both these treatments will make your eyes appear brighter, wider and more awake.
Teeth Whitening
Don't just drool after that 100 watt Hollywood celebrity smile as it's easier to achieve with our quick, effective and affordable Teeth Whitening Treatment that leaves you with pearly whites in just one sitting under an hour. Smile is the first thing that people notice and base their first impressions on so why not work a little extra on getting it just perfect. It will also help boost confidence and allow you to smile more often leading to a happy personality.
A glamorous Hair cut & Blow Dry
Something as classic as a Hair Cut & Blow Dry will not fail to impress your mum and what's better is that you can accompany her by opting for the same service and have a one to one personal time as your locks get polished by our professional hairdressers. Choose one of many hair cuts and hair styles from our extensive gallery to show to our hairdressers or opt for the cult favourite, Kate Middleton blow dry for a royal treatment.
Dermalogica Facial or Micro Dermabrasion
With a Buy One Get One Half Price offer on our Dermalogica Facials for the month of March, leave it to our trained therapists to leave you with glowing skin whilst feeling rejuvenated from within. More suitable for mature skin, our Micro Dermabrasion Facial is popular amongst mature ladies for a thorough skin exfoliation for younger, fresh looking skin aiding in skin cell renewal and increased collagen production.