Nicole Kidman's Cannes 2013 Hairstyle DIY
May 17, 2013
Nicole Kidman's Cannes 2013 head turning quiff has been the talk of the town since she sported it at the Cannes Film Festival and we're guessing it will be a huge hit amongst the fashion conscious ladies for the Summer. Why? Because it's slicked back to beat the humidity, easy to achieve with the right products, techniques and a good haircut, a modern take on the regular ponytail and the sky high quiff will instantly add inches to your height and make your face appear slimmer. Now who wouldn't want that? We'll show you how to achieve it at home.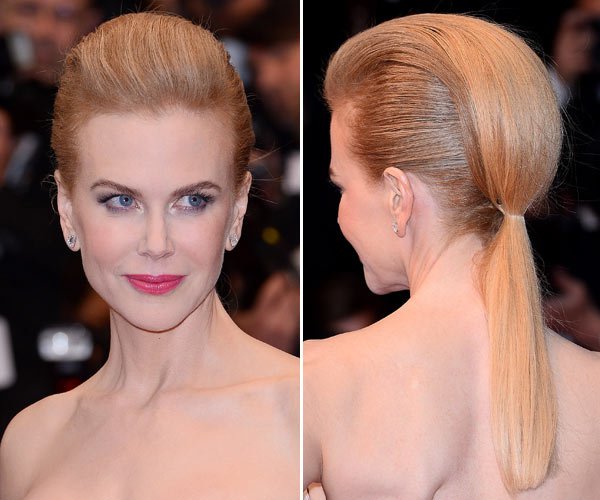 Image credit: Hollywoodlife.com
Take a four inches wide section from the top of your head and keep it separate secured with hair grips you will be using it at a later stage. For the second step, pull back hair starting from the temples to the back. The key is to ensure they are slicked back neatly without any flyaways or split ends peeping through.
Also, using a good mousse or a gel to recreate that wet look effect is vital. Choose one that has a good hold, wet finish but does not make your hair crisp. It should look and feel comfortable and modern. Fasten the hair you slicked back from the temples with a secure hair grip.
Now is the time to go back to that four inches section of the hair on the top of your head that we kept aside. Back comb them from underneath with a tangle teezer or a thin comb to create density, volume and height. Feel free to use hairspray in this step to keep the hair in place but ensure you keep it looking 'dry' so it looks different from the 'wet' slicked back section below.
The contrasting textures is what makes this quirky yet chic look so eye catching. Finish off with a gloss spray or a generous spritz of Argan Oil to add shine to those luscious locks.
We've showed you how to recreate the Hollywood Diva look however the final result will depend on the condition of your hair. If it's coarse, unruly, frizzy, dehydrated and with split ends, you already may have given up on the idea of giving this a go.
Don't be disappointed however. Summer is the perfect time to flaunt your locks in all their glory and experiment with hairstyles. Opt for a Brazillian Blowdry which is a Keratin Treatment in disguise, injecting an intensive shot of protein through your hair. It repairs, rejuvenates and leaves locks glossy, soft and as straight as they can be naturally.
You can also opt for Permanent Hair Straightening if you have naturally curly and wavy hair and don't want to damage them by regular hair straightening. If you have short hair that takes ages to grow, opting for Hair Extensions will give you luscious long locks in just one salon appointment.