Paris Fashion Week S/S 2015 Makeup & Hair
October 9, 2014
All about lashes! When we were just about to adopt the barely lash look, comes a runway trend that shifts focus back to them. This time though, it's all about those fluttery lower lashes. If Kylie Jenner and her Instagram pics with mascara laden lower lashes weren't enough to set a trend, the runway has given it that seal of approval it needs to officially be one of the eye make-up trends for the season.
We saw designers doing it slightly differently from each other, Versace's were different from Saint Laurent and Gucci were different from Rochas but the overall dominant minimal theme of make-up seemed to work perfectly with the carbon black lower lashes.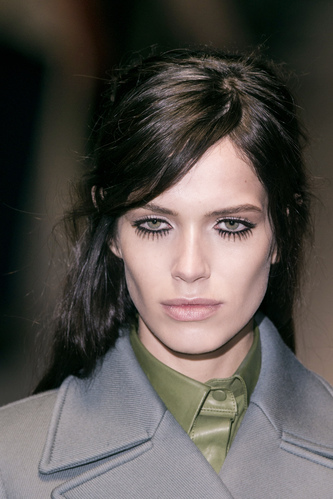 Depending on your preference, you could use faux ones, strip or individuals to replicate the look. Or if you're already blessed with good lower lashes, just amp them up with a bit of mascara for volume and separation. Eyelash extensions can be a possibly treatment to opt for if you're someone who has extremely short, spiky and sparse lashes. Pair this eye make-up with bronzer, nude lips and some liner for a bold yet sensual rock-chic look.
Of course there's your usual terracotta's and chocolate browns that are a staple in the eye wardrobe come Autumn/Winter but from the notes we took at Paris Fashion Week, all shades of purple are uber 'in'. Be it grape, aubergine or lilac, models have been rocking like them like it's going out of fashion.
Sketched all over the eyes, up the brow bone, it can either be worn full on or with hints of it on the outer and inner corner of the eyes, as done by some designers. If you're wearing purple eyes, don't forget to let it hog all the limelight. Play it safe with the lips and add a hint of colour to the apples of the cheeks as purple can tend to wash you out at times.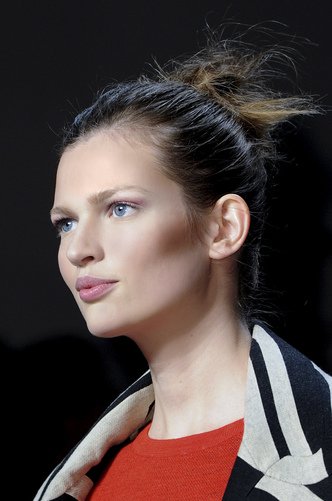 Ponytails, middle parts and ballerina buns ruled the tress mania at Paris Fashion Week this year. Starting with ballerina buns, these are a quick hairstyle to opt for the colder months as it helps keep hair away from the face and allows one to flaunt that latest scarf purchase! Just remember to make the delicate bun uncombed and allow the ends of the hair in the bun to stick out slightly.
As for middle parts, it's a great way to switch up your hairstyle a little, especially if you've always been a side part kind of girl. Let your features do the talking instead. Ponytails ruled the runway like every season, the only difference being that this year they were all low and a tad bit more polished. If your hair's a frizzball, a Brazilian Blow Dry should be on your to-do list for some much needed gloss and manageability. Add some texture and dimension to these ponytails by braiding or plaiting them artistically.