Reasons to indulge in a professional Pedicure Manicure
August 14, 2013
Did you know you could develop a Nail Infection if you are an active athlete, indulge in daily workouts wearing trainers or simply by living in a humid environment? A fungal nail infection could also be due to to smoking, diabetes, poor health, nail damage, wearing fake nails and so on. You will need a special fungal nail treatment from the chemists to solve the nail infection safely and completely but to prevent it from ocurring in the first place, ensure you keep hand and foot nails in top condition by opting for a regular professional pedicure manicure.
Constant cleaning of cuticles and the inside of the nails and buffing the skin around the foot area helps in minimising the risk of developing a nail infection. Book yourself in for once or twice a month and clean, healthy nails will thank you for that! Nerve endings, energy passages and organ functioning is controlled, stimulated, boosted and improved by hand and feet reflexology. The best thing about the treatment is that you don't have to undress for those with salon apprehensions and can simply roll over your trousers and enjoy the blissful treatment.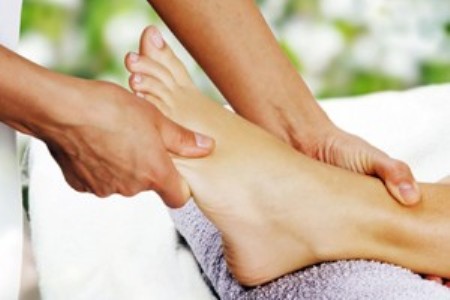 If you don't have time for a full on reflexology session, simply ask your therapist to concentrate on the massage aspect of your pedicure manicure instead of the buffing, filing and paint. Not only will a therapist be able to detect irregularities in organ function by a quick analysis of your hand and feet by pressing slightly with their thumb but will enable you to experience total wellbeing and healthy functioning of the body by the end of the session. Instead of instant results, clients report they can see a dramatic change after a week and with continuous treatments. If you suffer from migraines, back aches, anxiety, stress or IBS – the pressure applied during a pedicure manicure treatment will relieve the pain temporarily and eventually help with healing and rejuvenation after a couple of treatments.
For inner peace, well being and mental stability – a relaxing pedicure manicure with a complimentary massage will set things in place.
Of course you can do all the buffing and filing at home but not necessarily in the correct manner as the professionals. If you want quick, long lasting and effective results, opt for a professional pedicure manicure that will leave your hands and tootsies polished and perfect to flaunt. Dead skin cells are exfoliated with special tools, parched skin is quenched with salon grade skincare, cuticles are managed for better nail growth and nails will look and feel stronger.
If you have a shaky hand or are simply not the best when it comes to nail paint application, a pedicure manicure for a social event or occasion is always a great pick-me-up or a well deserved treat for yourself. Who doesn't like a week of polished, glossy, mirror shine nails in the latest shades of the season!