Shumaila's guide to the best autumn/winter 2013 hair trends
March 20, 2013
The merry-go-round that is the autumn/winter fashion weeks has just come to an end and although we won't be wearing the clothes until autumn it is a great time to see what beauty trends are up and coming. So what hair trends will we all be wearing come autumn/winter? Here's Shumaila's guide to the best autumn/winter 2013 hair trends.
One thing's for sure the autumn/winter was a real big hitter when it came to hair with a range of show stopping looks from fake Mohawks to supersize curls and two tone ponytails there were some real crowd pleasers but there were some key trends which will have you running to the hairdresser.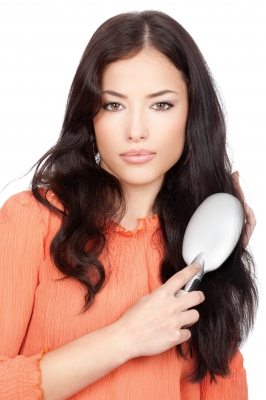 80s punk
There was no escaping the 1980s punk trend on the autumn/winter 2013 catwalk – from Fendi to Marc Jacobs the look was everywhere. At Jean Paul Gautier show the hair stylists used wigs and extensions to create mullets which wouldn't look out of place on David Bowie in his Labyrinth days. While at Fendi it was all about dip-dyed Mohawks. However, if a mullet or Mohawk is a bit too much for you then you can still get the look by copying Balmain, Missoni and Lanvin who had "wet-effect" hair which still took inspiration from the punk era but played it down a bit. So hair was slicked back at the sides which looked modern but with more than a nod to the 1980s.
A Seventies take on forties chic
At the catwalk shows of Marc by Marc Jacobs, L'Wren Scott, Bottega Veneta, Manish Arora and Rochas the models had glam 1970s style waves but with a 1940s twist by adding a side parting.
Fringe benefits
Another massive trend on the catwalks was the humble fringe. They were massive on the autumn/winter runways and luckily there was a style to suit most people. At Emilio Pucci and Anna Sui it was all about the full on 60s style while at Marni it was half fringe styles sported by the models with choppy, side-swept versions at Clements Ribeiro and Marc Jacobs.
The pony rides again
Well this is a trend that is not set to go anywhere – the ponytail has been massive on the catwalks and red carpet for ages now and thanks to the autumn/winter 2013 catwalks it's not set to go anywhere. So wear your pony either slicked back or deeply parted on side just keep it straight, low and above all glossy to achieve that key autumn/winter style.
The up-do
If the edgy punk isn't your thing and the humble pony just doesn't cut it then you could opt for the ladylike trend seen on a number of runways. Sophisticated updos were seen at Dolce & Gabbana, where the models wore their hair in sexy beehives, Carolina Herrera, which had twisted styles and for full on Hitchcock movie heroine style there was the Loewe catwalk. So with wedding season about to hit it a sleek updo could be the perfect solution to your hair dilemmas.
But best to avoid: Crimping
Yup you read it right crimping is back – it wasn't a massive trend on the catwalks but still enough to be featured on the fashion radar but if like me the thought of crimped hair gives you horrific flashbacks to your school days best to avoid that particular trend.