Spring Skincare & Make-up Tips
March 1, 2013
The cold days of Winter may be over and we are officially into Spring so not only is it important to spring clean your skincare and make-up wardrobe by getting rid of old staples, but to ensure your current skincare is suitable for your seasonal skincare needs. What you may find staple in the winter, might be inappropriate or too rich for your skin in Spring. Below are some tips and tricks to transition into the sunnier season with the right Spring skincare.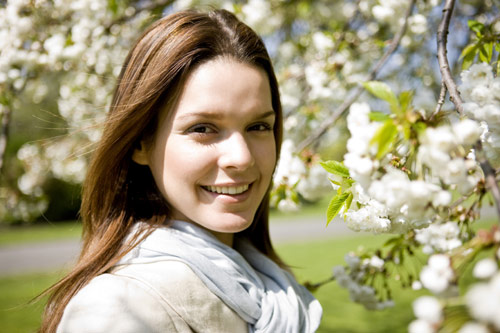 Opt for lighter Moisturisers
For instance rich, thick and creamy moisturisers can be easily replaced by lightly, fluffier, gel based formulas. Even if you don't suffer from oily skin, warmer weather has a tendency to secrete more oils in the skin, alongside the humidity in the air that can cause skin to behave in a haphazard manner hence a lighter formula will not clog pores allowing skin to breathe. Using clay based masks can help cool and sooth the skin whilst drawing up impurities, regulating the sebum level in the skin and keeping it free from blemishes.
Get rid of dead skin
More exfoliation can be incorporated into your skincare to get rid of dry, flaky skin from the Winter months. This should be followed through in Spring skincare as well as allergies can lead to dry, flaky skin that is red and sensitive. A good, non abrasive exfoliator and cell renewal skincare product will help in getting rid of dead skin cells without irritating skin. Once in a while, resort to a professional therapist for a Fresh Fruit Facial or a Microdermabrasion Facial to see stunning results and rejuvenated skin.
Brighten up your make-up
Ditch those muted browns and dusky taupes and opt for more brighter, vibrant shades in blusher and eye shadow to liven up your complexion and match it with the sunnier season. The heavy, matte, full coverage foundation base that you might have been using in the Winter will need to be switched now for a lighter base or a tinted moisturiser that lets your real skin peep through, giving an indication of healthy skin instead of a caked up face in the unforgiving day light. A bronzer and illuminator is essential to make your pale complexion look sun kissed and glowing from within. Opt for sheer lip stains instead of full coverage lipsticks for a natural look.
Protect your skin from the sun
If you have not been a regular wearer of SPF in the Winter months, this is the time to get back on track and get in the habit of never leaving the house without sunscreen on. A minimum of SPF of 30 is required be it in your regular moisturiser applied separately or in your foundation. Try not to use more than one product containing SPF as it will reflect back heavily in flash photography, giving you a white ghost like cast. Gone are the days of thick, paste like Sunscreens as many light fluid like textures are available in SPF these days, giving you no reason to skip on this Spring skincare essential. Avoid pigmentation from sun damage at an earlier stage and if you have developed pigmentation already, opt for a Derma Roller treatment for professional fading.