Tone thunder thighs & banish bingo wings
December 4, 2012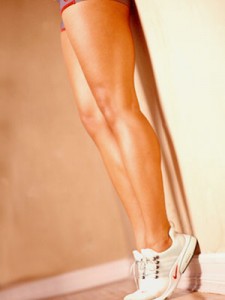 Wobbly thighs and arms are the most difficult parts of the body for most women to get under control. Thighs for usually known for being not in proportion with the rest of body, cellulite laden or simply with more fat content in them than muscle.
Bingo wings aka the wobbly arms can also develop cellulite if they are let loose and not toned for period of years. Women usually have complaints with them being flappy and loose, especially noticed during the summer time when tea dresses, crop tops and vests become regular outfits.
Reduce calorie intake
It may sound clichéd however reducing the overall amount of calories you consume per day can have a dramatic impact on those fat reserves in the thighs and arms, leaving your body to fall back on them hence melting them gradually. Start by consuming moderate portions initially, increasing the fruit/green vegetable content in your body and amping up the daily intake of water. Try having 'sassy water' for a flatter tummy by mixing the below listed ingredients and see how they detoxify your body and boost up metabolism.
Sassy Water
2 liters water (about 8 ½ cups)
1 teaspoon freshly grated ginger
1 medium cucumber, peeled and thinly sliced
1 medium lemon, thinly sliced
12 small spearmint leaves.
Cardio Workout
Running on the treadmill or rover, jogging in the part with your dog, belly dancing, swimming, salsa classes, jumping jacks or even heading over to your local ice rink this winter to sweat out a little ensures you work out your entire body in one go. It is a little known fact that besides designated spot workout, overall body workout also works effectively at toning the arms and thighs. It might take a couple of weeks for you to see the results and even longer for others to compliment you on it, but that does not mean it's not working for you. Consistency and determination is the key!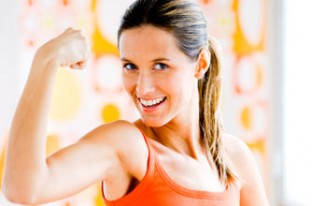 Weight Lifting
Women are usually afraid of experimenting with weights in the fear that they will end up with muscular thighs and arms like men. First of all, a muscular body is what you are opting for albeit in a softer manner and secondly, women's body's are not designed to become as muscular as that of men's, unless you undergo strenuous, hardcore weight training. The good thing about weights is that you can practice them at home with a few to-do pictures you'll find floating on the web or with a quick and convinient 20 minute workout dvd like the ones by Davina McCall or Jillian Michaels who also have specific parts of the dvd designed only for weight training.
Be it lunges, squats, press ups or chair dips, embrace them all even it its for 3-4 days a week and the end result will be toned arms and slender thighs in a matter of months.