Your frequently asked waxing questions answered!
February 3, 2015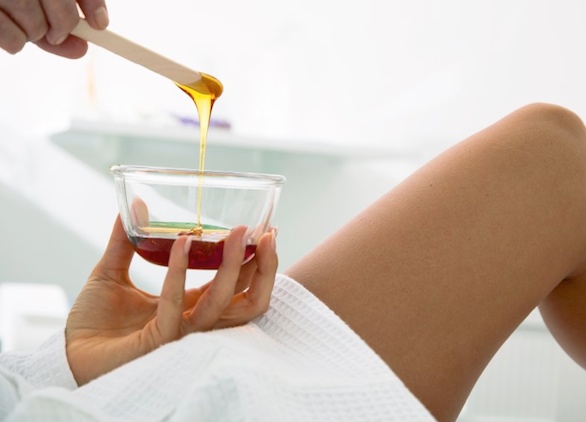 It's okay if you are a waxing newbie. Shaving, threading or hair removal creams may have been your choice to get rid of peach fuzz since the beginning of time. But because it's February – officially the month of love come Valentine's Day and most ladies will likely be taking the plunge for a Full Body Wax, Brazillian Wax or Hollywood Wax, we thought it was time to break it down for you. No surprises once you're in the waxing room!
Trimming or shaving parts of the body that need to be waxed beforehand is a big no-no. What this does is to make the entire process a little more tedious as the wax cannot get a good grip on the hair. A therapist will always advice you not to indulge in hair removal processes for a good 2 weeks prior to your wax appointment, especially if it applies to a bigger area such as thighs, stomach etc. If you are looking for a cleaner wax that's least painful, avoid the urge to shave/pluck/trim every little hairy detail on your body.
As for showering before a waxing treatment, it's recommended you indulge in one a day before your waxing treatment. Don't leave too many days in between your shower and waxing treatment as hygiene is important and it's showing overall consideration to the therapist who actually has the right to refuse a client treatment based on hygiene reasons. Having said that, avoid showering too close to your waxing appointment because if you leave only a few hours time in between, your skin might be too sensitive and with open pores which is something you want to avoid for a painless treatment.
When it comes to waxes, there's two different types. One is warm wax and one is strip wax. Both of which are applied in a thin layer to the skin, coating it with a spatula to get even coverage. Followed by a waxing cloth which is pressed firmly onto the skin, a quick yet gentle motion is carried out to get rid of that particular patch of hair. Where as with hot wax, a therapist will usually apply it generously to the skin with a spatula again, allow it to set just a little and then pull it out without the need for a waxing cloth. Voila!
It's completely fine to talk to your therapist before and during the treatment to ensure all your concerns are met and you are fully satisfied with the treatment that's taking place. Don't be afraid to shoot your questions at them as they are there to help. If you are concerned about the amount of clothing you can keep on during a treatment, this is also a great time to confirm this with the therapist. For most waxing treatments however, expect to be in your pants only as it's only common.
We won't lie by telling you that waxing treatments do not hurt. They do. But like all things painful, they get easier with time we promise. A good rubbing of ice post-treatment is always great to reduce redness, calm down any sensitivity and ease off soreness. If you are a waxing rookie, it's good practice to have two paracetamol's less than an hour pre-treatment.