Air Hostess Beauty Tips for long haul flights
September 1, 2013
Beauty Tips – There's a reason you see Air Hostesses looking glamorous whilst you deal with puffy eyes and chapped skin. They are given a good few lessons in staying glamorous as a part of their job, which they religiously follow whatever their age. If you want to look like these evergreen beauties that we all admire during our plane journeys, here's a few things they swear by. Incorporate these Air Hostess Beauty Tips into your travel journey to make your skin look as flawless, awake and energised as theirs.
Primer is key! It may appear trivial in everyday lives with most of us skipping it and not giving it's worthy credit but for an air-hostess, it's an essential they don't start their make-up routine without. Depending on your skin type, choose a primer that works for your skin's current concern as one size will not fit all.
There are photo ready primers if you like taking pictures, mattifying primers for oil slick beauties, hydrating primers for dry skin girls who want their makeup to last longer, anti-ageing primers that bounce light off wrinkles and fine lines or pore reducing primers for those with skin imperfections. Just like your SPF, apply a good amount of this just after your skin care routine.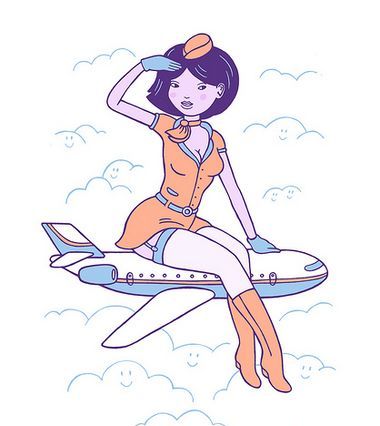 Did you know air hostesses are advised not to wear bronzer on flight? This is because the lighting in flight can make bronzer appear muddy on the skin and make one appear tired and glum. So those sculpted cheekbones that we admire on air hostesses is a result of precise blusher application. With blusher, the more the better in flight as it seriously works at adding colour back into your skin and making you look younger, fresh and radiant. Contour with a darker deep berry shade and use a soft hue of peachy pink on the apples of the cheeks.
Foundation and Mascara are their make-bag staples as well. A good matte foundation, that does not look cakey but manages to last for 15 hours plus is what they usually look for. Opt for Estee Lauder's Double Wear Foundation, Jemma Kidd Light As Air or MAC Pro Longwear. Make sure it's as close to your skin colour as possible is what they have to strictly abide by for an appearance of even skin tone in flight lighting.
Coatings of Mascara is also what these pretty ladies of the cabin crew seem to love. Have you ever noticed how dark and luscious their lashes look without falsies? You can achieve a similar effect by using a combination of two mascaras. Choose the first one that works well as separation and definition and the second one for thickness and volume. Ditch waterproof versions as they will only dry out lashes and make them look crisp at the end of the day.
Dry shampoo, Carmex, an Eye Mask, Foot Mask, Flight Socks, Hydrating Eye Cream, an Intense Moisturiser and if nothing works, a good pair of sun glasses is what air hostesses recommend for long haul flights.
Here at Shumailas we all need a little helping hand, we love our semi permanent makeup to save time. Check out our prices now!