Andrew Barton's Autumn/Winter Hair Tips
September 28, 2014
Celebrity hairdresser Andrew Barton, stylist to the likes of Eva Longoria, Jerry Hall and Juliette Lewis, gives his top hair tips to combat the ravages of Autumn. The chills of Autumn and climate change effect how hair reacts, making it harder to manage, drier in condition and less shiny. Using a hair care regime that is blended with essential moisture and ingredients such as Moroccan Argan Oil, will help to add shine add ensure the hair is easier to style.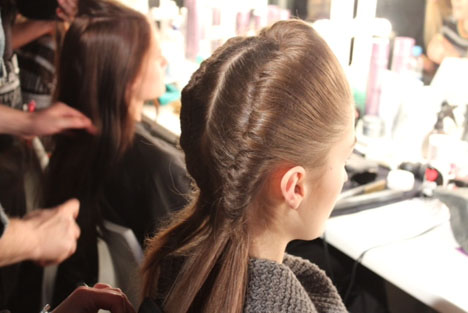 To give you shiny happy hair even in the colder months, check out the five quick and easy tips below.
The big culprit for drying hair out in Autumn is the change in temperature as we start to rely on central heating at the office and at home. As the air becomes drier, hair becomes prone to frizz. A hair product containing a blend of rice bran oil and argan oil is just perfect to tame those tresses. Incorporate a shampoo, conditioner, treatment mask and serum particularly targeted to calm down flyaways. This will leave locks feeing nourished, feeding it with the right amount of hydration to fight against frizz and static.
Other culprits include hats and scarves. As Autumn/Winter arrives, we start relying on those snug accessories a bit too much. Both create friction and static as the materials rub against the hair cuticle raising it, resulting in less shine and a rougher texture that is harder to style. Opt for a nourishing leave in repair spray before leaving home that will help guard those tresses and avoid them from reacting with friction. Spray on damp hair before styling it will add moisture to the hair as well as giving it supreme protection from flyaways and static.
Be religious about using an intense, deep conditioning hair mask at least once a week. It will make the hair softer to touch and add hydration which the hair lacks in the Autumn and Winter months. Opting for a luxury hair treatment once a month at a salon will ensure your hair is drenched in a hair mask and prepped with steam to get it in shape for the colder months.
Using a mousse before blowdrying will also help to protect the hair from dry air. A mousse with moisturising polymers, will not only retain a longer lasting styling effect, but will also add protection against the dry air and give more control and hold on damp days. We recommend indulging in a Brazilian Blowdry, a keratin treatment for Autumn/Winter. It will add shine, softness, more manageability and control to tresses so you can wake up with brilliant hair everyday.
To add shine and moisture each time you brush, try a fine Argan Oil infused serum or oil into the tips of each bristle, it helps improve the look and condition of the hair with each and every brush stroke.