Anti Ageing Makeup & Skincare Tips
November 12, 2013
Anti Ageing Skincare
A good skin care routine needs to be in place for anti ageing. Something that you can fall back on and rely to solve your problematic skin which can mostly be as a result of wearing make-up everyday. Start your day with cleansing and get on with your evening cleanse as soon you step inside the house. If you have mature skin, liquid exfoliants and at-home glycolic peels are great to keep skin producing more collagen and elastin, which can automatically deplete with age. This fastens up the process of skin cell renewal and helps complexion stay bright and luminous – the perfect base you want for makeup. We recommend Dermalogica Gentle Cream Exfoliant.
Anti Ageing Foundation
Overloading foundation with an intention that it will fill in cracks, fine lines and wrinkles and plaster a new canvas all over them is a myth. Heavy, full coverage and matte foundations are the last thing you want then it comes to anti ageing in particular. If you want to distract attention away from imperfections and the evil ravages of time, then opt for a dewy finish foundation with light reflectors that will add a soft focus finish to the finish and add more depth and dimension, bringing out the fuller areas of the face. We recommend Dermalogica Treatment Foundation.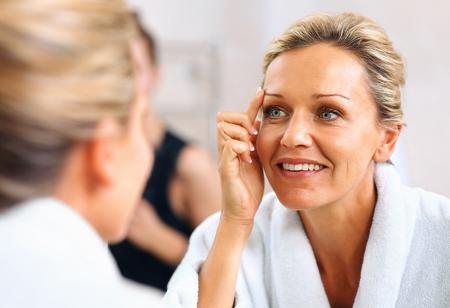 Anti Ageing Blusher
A similar rule as above would apply when selecting the right blush for mature skin. Mature skin can have a tendency to be dry, so don't mask it with matte blushers that will only flatten the face. Soft cream blushers will again add texture and help bring out those sunken cheeks. It will take eyes away from any dryness and dehydration and help mimic the appearance of rest, a good diet and most importantly, youth. We love soft pinks and dreamy apricots for mature, dry skin as it can help create a subtle doll like effect. Always apply blush on the apple of the cheeks as you get older, regardless of your face shape as that sort of strategic application will replicate the appearance of supple skin and plump cheeks that won't give away your age.
Anti Ageing Lipstick
Lips can be tricky area to cover at any age, let alone when you're getting older. For anti ageing purpose, avoid extremely dark, vampy lip colours no matter how much they are in trend. Also avoid the cult favourite nude lipstick shades, no matter how sultry they make you feel. It is important to choose lip colours that have flattering rose, dusky mauve and fresh apricot hints in them that will help liven up your complexion. As for textures, ditch the extremely drying, matte finish and full coverage lippies as well as overtly glossy, disco ball like finishes. Opt for modern sheer formulas that Chanel and Burberry have to offer. For those on a budget, creamy lip butters from Clinique and Bourjois will be your best bet. They will make lips look moist and plump whilst delivering a boost of subtle colour. Moisture is the key to all aspects of make-up when it comes to battling ageing.
Anti Ageing Eyebrows
If you have never considered filling in your eye brows, now is a good time. Not only are they in trend, thanks to Cara D but sparse eye brows can immediately make you look a decade older and drained out of energy and life. Whatever your take on brows, subtle or full on, just don't ignore to groom and fill them as they help ageing faces get their definition back without much effort at all. Instead of stark pencils that can look harsh and need some practising to get right, opt for soft powders that have better blendability. There are a lot of brands that have brought out eye brow quads such as the cult favourite HD Brows, which offer four complimentary shades to choose from.