Benefits of Mineral Salt Scrub
March 30, 2015
People have been using Mineral Salt Scrub for ages to promote a healthy and fresh skin. Mineral Salt Scrub not only deals with your skin disorders, but also detoxifies and prevents illness. Unlike other scrubs, Mineral Salt Scrub has the ability to reduce stress from your mind and effectively revitalize your skin. Some of the most powerful effects of Mineral Salt Scrub are discussed below.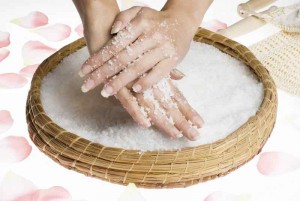 Anti-Aging
Mineral Salt Scrub is famous for its ability to revitalize your skin. It not only reduces wrinkles, but also promotes a smooth and soft skin which makes you appear much younger than your actual age. Research postulates that Mineral Salt Scrub is known to bind water in your skin, which means that it helps your skin retain its water due to which it remains moisturized, which leads to the reduction of wrinkles.
Exfoliation
Dead skin cells lie on the surface of your skin and you need regular care to prevent them from staying, because the longer they lie, the harder they get. Mineral Salt Scrub removes dead skin cells from your body and promotes a smooth and soft surface. Dead skin cells make your skin appear flaky and dry due to which you should opt for Mineral Salt Scrub to prevent this from happening.
Cleansing and Invigoration
Mineral Salt Scrub fights off the abrasiveness and invigorates your skin. It also improves blood circulation, giving your skin a natural glow. Mineral Salt Scrub also has the ability to unclog pores and remove bacteria, and its anti-septic qualities reduce inflammation as well. So, to get a bacteria-free, cleansed skin you should go for Mineral Salt Scrub.
Acne
40 out of every 100 people are prone to acne. If you're also one of them you should go for Mineral Salt Scrub to get rid of it. This scrub contains a good deal of sulphur, which helps skin in cleaning and prevents it from acne, acne scars and dermatitis.
Encourages Good sleep
Mineral Salt Scrub has a soporific and calming effect on your skin due to which it is very helpful in promoting a restful sleep. Research shows that Mineral Salt Scrub also prevents you from excess salivation in sleep by keeping it hydrated and calm.
Eye Wash
Well, if you're tired of your routine and want to relieve the puffiness that is around your eyes due to work load, then Mineral Salt Scrub is the right fit for you. Mineral Salt Scrub has the ability to reduce puffiness and dark circles and gives you a calming effect due to which you feel fresh in the midst of the daily workload.
Purifying and Healing Effect
The electromagnetic force which surrounds your body attracts many impurities and negative energies from your surroundings. These energies have a negative impact on your health and well-being. Mineral Salt Scrub is believed to have purifying qualities because it absorbs negative energies into it and relieves your body from them and you feel rejuvenated.