Cannes Film Festival 2014: Make-up & Beauty
May 26, 2014
Aishwarya Rai Bachchan. She left the crowd speechless with her appearances at Cannes Film Festival 2014 this year. Not only has the previous Miss World lost oodles of weight but she got all her fashion and beauty choices spot on this time. We loved how she played safe and chic with her outfits and hair styles and experimented with the make-up a little more.
Be it the bright orange lips paired with a clean, crisp eye liner or glossy red lips paired with emerald green eyes, she set new standards for evening make-up that can be sported this Spring/Summer. Paired with bond girl style, sleek and polished hair, she looked like the perfect red carpet diva.
Sonam Kapoor. Contrastingly enough, we saw Bollywood actor Sonam Kapoor sporting nude pink lips, taupe eye shadow and a neutral blusher kind of a look paired with poker straight and a modern centre part on her red carpet appearance. Her nude coloured apparel with flattering textures created a dreamy, ethereal look that matched her make-up and hair seamlessly.
On the day she sported the Elie Saab extravagant black gown, we loved the flawless glowing skin, paired with tinted red lips, nude brown eye shadow a crisp eye liner. Her hair was pulled together in a retro hair style that she rocked with panache. We loved Sonam's Cannes Film Festival 2014 looks for some Spring/Summer wedding inspiration.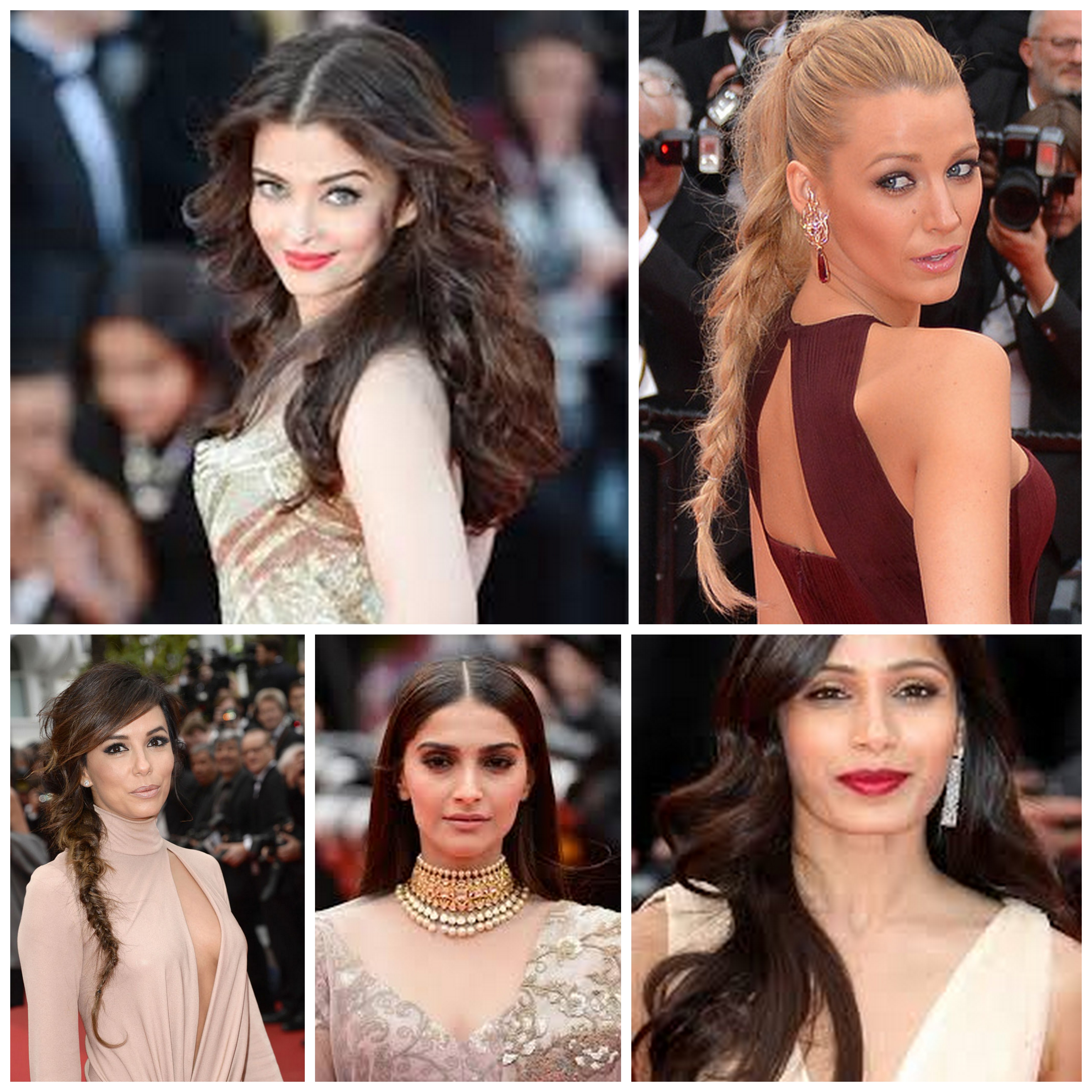 Frieda Pinto. The dusky beauty was seen sporting a defined red lip, shimmering champagne eye shadow and barely there lashes look in her Michael Kors gown. Her hair was side parted and loosely waved for a vintage glamour look. It's a great idea to tone down a bold outfit with toned down make-up and low maintenance hair. In her extravagant red down at Cannes, her skin was highly bronzed, her lips were a glossy nude shade and her eyes were completed by a smoky look. With a sleek side part, low ponytail – it's quite an easy look to for a desk to dance floor transformation.
Eva Longoria. Wearing a mink Emilio Pucci, Eva Longoria stunned crowds with her bohemian inspired textured side braid. Her eyes were heavily lined and she rocked a smoky eye look with pale lips. In her figure hugging white gown, the beauty left her short hair simple and loose, with pale lips and smoky eyes again. We wished she would have experimented with her make-up a little but nonetheless, the classic look is a fail safe one for cocktail parties and evening office events. It's glamorous yet polished and muted.
Blake Lively. In her bold burgundy gown with a thigh high split, the gossip girl star made heads turn with her high ponytail braid and soft makeup that defined her features, complimented her hair and flattered her outfit. The look is a great one to keep a snap shot of in your phone when getting wedding hair done by a professional hairdresser this season. All the hair away from your face will let your face and outfit do the talking.
In her black and white floor sweeping gown, she left the paparazzi speechless with her chic oversized chignon and a classic, pin-up make-up look. Again, a great idea for a wedding hairstyle to don this Spring/Summer.