how to detox your skin
January 1, 2013
There's nothing better than a brand new year that calls for face & body skin detox, especially after you have let it go loose during Christmas and New Years and want to get your skin and body back into shape and routine.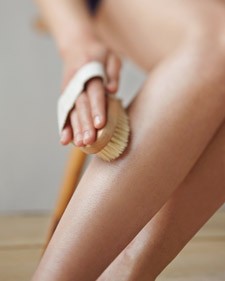 Scrub the toxins away
A body brush is essential in every girls bathroom. It's one cheap & cheerful tool that lets you indulge in some good DIY massaging at home. Dry body brushing before a shower has advantages such as shifting the toxins and fat deposits that otherwise have no way out of your system and cause the dimply areas on your thighs and the nasty cellulite. The rough bristles and the brush movements also wake up your fast asleep lymphatic system that might have become sluggish during the festive season, promoting faster metabolism, a better immune system, natural healing, increased blood flow and much more.
Rehydration Therapy
A dehydrated body can mean lack lustre, dried out and wrinkly skin that reflects your inner skin and body health. Make a 2 week plan and get your body fully hydrated and feeling light and airy by drinking hot water every quarter of an hour for two weeks alongside drinking half of your ideal body weight in ounces at room temperature. You can reverse the effect of all those alcoholic drinks, caffeine intake, salty and processed foods that you have indulged in during the festive season by adopting this therapy and get back with naturally glowing and supple skin in the new year.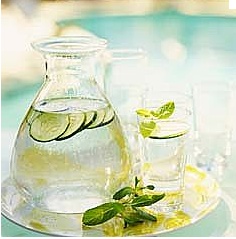 Go mineral!
Give your skin the much needed break after all the layers of make-up you have piled on your face during the party season and those nights when you have gone to sleep with make-up and woken up with panda eyes and hangover skin. Start fresh this new year and let your skin breathe through naturally by skipping make-up as often as you can. If you are outside and need some coverage on your skin to feel confident, opt for zinc based mineral make-up that is great for sensitive skin and reduces inflammation and irritation in fact. Don't let the powder foundation scare you as the coverage will be full but will appear dewy and skin like. Although not recommended, mineral make-up is kind enough on the skin to go to sleep in.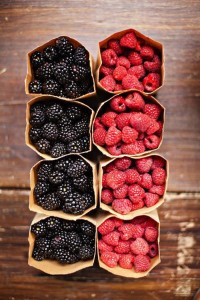 Eat right for healthy skin
Alkaline rich food such as leafy green vegetables, garlic, lemon, cayenne peppers and root vegetables move the lymphatic system naturally and cleanses it internally leaving your inner skin healthy which will automatically reflect on your outer skin, leaving it vibrant. Including seasonal berries, cherries, pomegranate and cranberries in your diet, basically foods that stain your skin naturally, are also known as lymph movers and are wonderful to detoxify the skin.
A Facial a day
There are lymph nodes in the face as well that when stimulated correctly by a trained therapist in a detox facial can trigger the body to release toxins, reduce swelling and puffiness from the face, increasing blood circulation and promoting collagen production. Plus a thorough cleanse, tone and exfoliating session with a relaxing massage can clear pores and hydrate skin like no other.