Face Oils: A Must-Have For Dry & Oily Skin Types
January 25, 2014
Do you remember being told when young that 'oily skin' is bad for you? Since childhood and teenage years we were introduced to skincare and makeup products that would suck out all the oils of our pores, leave it squeaky clean as if it was crockery and mattify it like it was going out of fashion. However, lately the trend seems to have taken a back step with face oils being in fashion all over again.
Be it for skin, hair, nails or body – or be it argan, macadamia or moroccan oil. If you're on the fence whether to incorporate a face oil in your skincare regimen, then here's the truth on whether they are just a seasonal gimmick or actually beneficial for your skin.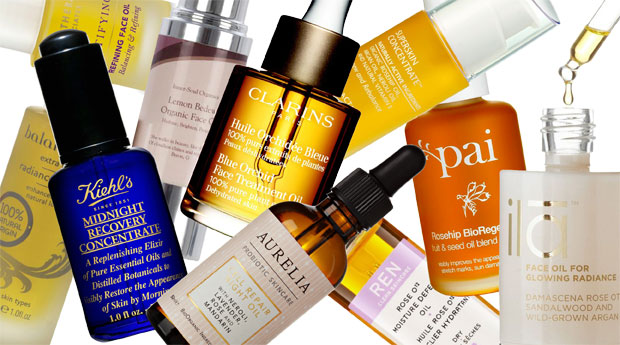 The reasons for the face oil trend taking such a hike recently is because skincare experts and facial therapists are realising their benefits. Of course they have been used in salons and spas since decades but for face oils to become a household staple in a step forward for skincare enthusiasts. Face Oils are particularly crammed up with antioxidants, multivitamins, omega fatty acids and nowadays especially argan oil. Argan oil is a godsend skincare product when skin feels sensitive, dehydrated, inflamed or just taut and distressed in general. As it contains a tonne of protein, it also helps nourish the skin thoroughly, makes it resistant to any environmental damage and protect it from pre-mature ageing and fine lines.
A minority of face oils tend to be comedogenic in the sense that their molecule is too large to penetrate into the skin and pores hence they end up blocking pores, leading to congestion, acne and breakouts. It's best to select a face oil for yourself after having a nice facial massage done by a therapist and asking them for their recommendation. But if you're on the hunt for a face oil yourself, steer away from Mineral Oils in particular. Although you'll come across a lot of debate surrounding the issue, the point in case is that most people don't find it suitable for their skin leading to breakouts.
Choose a face oil that helps you with your particular skin concern at present. This is different from your skin type. Your skin type is what always remains stagnant. What fluctuates is your skin concern based on hormones, lifestyle, diet and environment. So you can have combination skin that is dehydrated or dry skin that is sensitive with redness and so on. Face Oils are more likely to calm down a skin problem than other thick creams and face masks. Oils are more concentrated and work quicker, absorbing better. If unsure, test out a face oil on a small patch of facial skin to see how it reacts to it.
Tea Tree Oil for instance is superb for oily-combination-blemish prone skin. It detoxifies, clears out impurities, calms down redness, unclogs pores and reduces the size of live blemishes. Chamomile oil on the other hand is perfect to comfort and soothe sensitive skin. Whereas Argan Oil is perfect for mature-dry-dehydrated skin as well as for combination skin that is dehydrated. Out of all face oils out there, Argan Oil is the most versatile and one that won't break you out so easily. It's also rich in unsaturated fatty acids and vitamins.
In reply to our question then, face oils are not a fad! They are a necessary element in an evolved skincare regime that people need to customise based on their bespoke skin types. They have been used since centuries and will be for centuries to come!