Roll up, Roll up – the low down on the Derma roller
January 12, 2014
Derma Roller Treatment London
You may or may not have heard of the latest big buzz in skin rejuvenation – the Derma roller – but if you haven't heard about it yet, you're extremely likely to in 2014 as the procedure looks set to grow in popularity.
First taken up en masse Stateside, early adoptees of the Derma Roller treatment that "hurts your skin in order to heal it" and works by micro-wounding the skin so as to stimulate it into producing extra collagen and elastin, include famous Hollywood beauties and legendary love rivals Jennifer Anniston and Angelina Jolie.
And now Derma Roller has landed on our side of the pond, with salons and clinics up and down the UK now including the procedure on their treatment menus. But what is it exactly, just how safe is the procedure, and does it really work?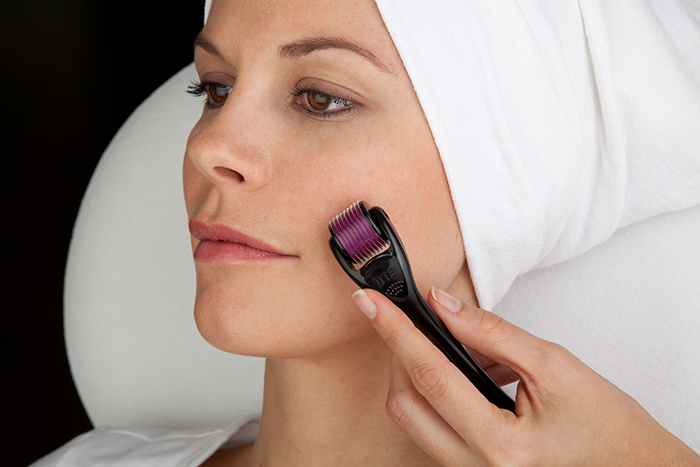 Each and every Derma roller session uses a sterile device with hundreds of strategically placed micro-needles attached to it, that can range from 0.2 mm to 3mm in length. Normally a salon treatment for the facial area will use a needle depth of between 1 mm and 2mm, with needles over 2mm usually reserved for the body or for areas affected by deep scarring.
Though the process penetrates the skin, there is zero risk of cross infection, as a brand new Dermaroller device is always used for every client. And if you're worried about the pain, there's no need, a topical anesthetic is applied to the area to be treated 30 minutes before treatment commences, so the most you will feel during a session is the odd, mildly uncomfortable stinging sensation as the device is passed over your skin.
The dermaroller is usually rolled over every inch of the treated area approximately six times in several different directions, and immediately after a session, an active topical cream or serum will be applied since absorption rates increase to up to 80% after the procedure has been carried out.
Dermarolling is suitable for all types of skin, including dark skins, and is especially effective at evening out pigmentation problems, and encouraging mild to moderate scar tissue to heal and regenerate itself.
Regular Derma roller treatments are also suitable for maintaining a youthful looking epidermis, as the procedure restores radiance and visibly improves skin elasticity and bounce, so it's suitable to incorporate into your general skin care regime, even if you don't have any specific skin issues that need tackling.
As for results, you can expect to see a visible improvement after a course of six sessions, with some people reporting a difference in their skin tone after just two or three sessions.
Dermarolling really looks like one of the big new skin care sensations over here this year, so why not try it out for yourself and look to see if a salon in your area offers the treatment?
Call us on 0208 518 9090 to book an appointment in London or Essex.