Festival Beauty Tips for Spring/Summer
April 1, 2014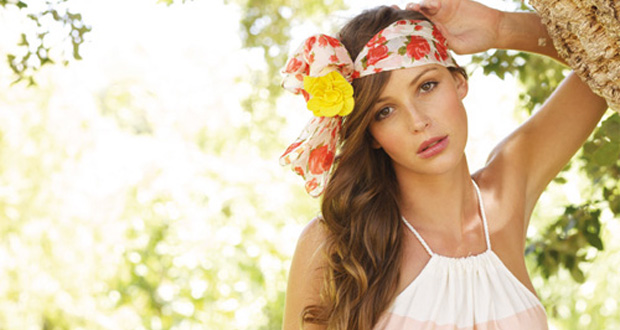 Spring is here, allegedly, and while many are yearning for their summer holiday there are also hundreds and thousands who can wait to grab their back packs and head to their favourite festivals. Every year a whole new set of music lovers join the festival circuit and, unlike the old pros who have got it off to a fine art, they are a bit lost as to what to take. Never fear as we have some handy festival beauty tips here to make sure you always look your best, the only thing we can't advise on is the weather.
The contents of your make up bag very much depends on the festivals you are going to and if you are going to a few then put yourself a bag together of these essentials so they are always on hand. Your make up will not be full-on at a festival as it would be for a big night out so a small portable mirror will suffice. Think fresh CC Cream laden skin, bare minimum concealer, thick brows, cream blusher and glossy lips. The portaloos at festivals will more than likely have mirrors but imagine trying to check your make up in a top club and times it by 100, it won't be a lot of fun so a mirror is a necessity.
Our Pre-Festival Treatment Picks:
Brazilian Blowdry – For naturally frizz-free, glossy, protein-enriched locks that dry to a salon finish after every wash.
Microdermabrasion – For buffed, polished & radiant skin – clear of dead skin cells so you can wake up with an even skin tone.
Body Wrap – To detox your body of toxins and fat deposits – helps you feel lighter and shed those extra inches on the hips
Wet facial wipes should also be in there for general freshening up as well as removing any make up at the end of the night. We suggest carrying exfoliating pads and toning mists for skin instead of solely depending on alcohol laden cleansing wipes for the face. If you are making an effort with your nails and wearing bright, pop art falsies then make sure you have glue with you and some spares as a hand with a nail is never a good look is it? Essential cosmetics, which should all be of the waterproof variety, are eyebrow pencils, eyeliner, mascara, blusher, eye shadow and lip stain. Invest in good quality products so they will see you through and once you leave your tent you won't have to worry about them streaking or rubbing off.
If you have sensitive skin and have to use special products to keep problems at bay then do not neglect your routine simply because you are going away. Dermalogica do great travel sizes in their Medibac and Ultracalming range. If your skincare staples come in large bottles, decant them into small ones you can pick up anywhere for a few pence. The same goes for shampoo if you cannot bear the thought of your hair going unwashed for a few days as this saves both room and weight in your back pack. Although a dry shampoo and some texturising conditioning spray are always great alternatives! Along the same lines packs some scrunchies or clips as those with long hair can put their hair up, either clean or dirty, into an uber trendy messy up do in seconds.
If you are going to a summer festival and plan living in shorts and a bikini top then get a professional spray tan before you go. Many have discovered to their chagrin that applying cream or wipes in a tent does not a great look make once you step outside, so book your appointment a few days in advance to allow it to settle properly. Clothes wise you should aim for light layers which gives you both comfort and choice once you get there and saves a lot on weight when it comes to your back pack which will invariably be heavier than you thought.