The Microblading Healing Process Explained
February 26, 2018
If you love the look of beautifully sculpted and natural looking brows and are tired of spending your mornings drawing them in, then microblading may be the permanent solution for you. Popularised by countless celebrities and supermodels, there is no better procedure than microblading to achieve glamorous and perfectly manicured brows, and Shumaila's Beauty in Essex does it best. Here we outline what happens during a microblading session and carefully explain the healing process and necessary aftercare to keep your brows looking good for life.
What is Microblading?
Microblading is a form of permanent makeup that offers a solution to thin and wispy eyebrows. Using a device consisting of tiny needles, ink is deposited into the skin to simulate the appearance of hair. Depending on your level of care and maintenance, microbladed eyebrows can last anywhere from six months to 18 months before another treatment is required.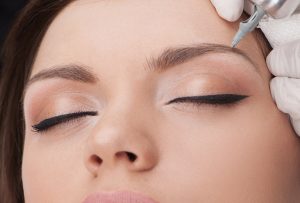 The Importance of Aftercare
Just like any other cosmetic treatment, post-care is necessary to maintain the appearance of your newly groomed brows.
Firstly, do not allow any water, lotions, makeups or soaps to touch your eyebrows during the first seven days post-treatment. During these initial seven days, you can begin to apply the post-care ointment provided by your therapist at Shumaila's. Apply the post-care ointment to your eyebrows using a q-tip just once or twice a day, preferably at night time, and continue this for the next seven days. Always use the ointment sparingly as your skin needs to heal itself.
At around the seven-day mark, you will notice a thin film of skin appear on your eyebrows. This film will begin to peel if you have cared for your eyebrows properly. A few days later this skin will slowly peel away, and it is during this time you must resist the urge to touch your brows until fully healed. Dryness and flakiness may appear after peeling, but again, leave your brows alone as they will return to normal once healed. Never apply lotions or creams to your eyebrows before they are healed as this will absorb the ink out of your brows resulting in fading.
When washing your face, remember to do it carefully near the eyebrows and avoid getting water on them. When in the shower, face away, or if possible take a bath. If water or sweat contacts the eyebrows, a scab will form causing your eyebrows to itch. Again, resist the temptation to scratch your eyebrows as this may cause scarring and will remove the pigment.
If your skin is sensitive, you may notice the treated area becomes red. This is normal and is solely a result of the skin being irritated. Your skin will be fine within a few days.
For the first 14 days post-treatment, it is advised to avoid the following:
Sweating and sports
Swimming
Laser or chemical peels and treatments
Face or neck creams including retinol or glycolic acid
Hot tubs and jacuzzi baths
Sun beds and exposure to UVA and UVB rays
Touching the pigmented areas unless when applying the post-treatment ointment with a q-tip
Household cleaning in dusty places including garages and basements
Drinking excessive amounts of alcohol
Driving in convertibles or riding bicycles and motorbikes
If you want microblading done in Essex, then look no further than Shumaila's Beauty. Our professionally trained staff will show you how you can have the eyebrows you have always dreamed of.