CLICK HERE – FULL THREADING PRICE-LIST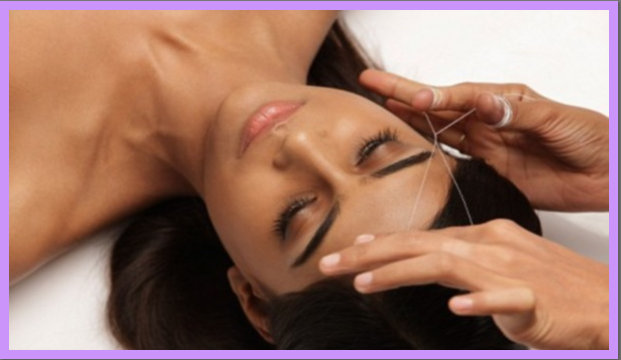 Origins of Threading
With its ambiguous origin in countries like India, China and the Middle East, Threading is an ancient Asian technique of hair removal which precisely removes unwanted hair from around the eye brows, upper lip, chin, forehead, neck and the sides of the face.
When it comes to the delicate skin on the face, it is a more comfortable, safe and pain-free way of hair removal compared to waxing, plucking and tweezing. At Shumaila's beauty clinic, there are threading experts who get rid of the unwanted hair on your face with the help of a special thread which is particularly created for beautification hence is strong and durable, kind to sensitive skin and precise at targeting hair without applying pressure.
Better than Waxing
Waxing is a popular technique of hair removal for the face however many people are wary of waxing either owing to the pain associated with it or due to the chemicals involved in the process. These chemicals may prove harmful to the skin and be unsuitable for all skin types, especially overtly sensitive. Therefore due to the simplicity of the method and the use of no chemicals or abrupt hair removal, threading has become a viable, low maintenance option to keep unruly hair at bay.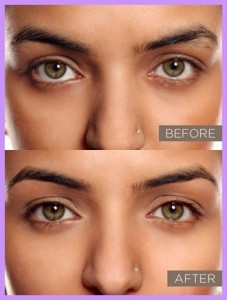 Benefits of Threading
It helps achieve greater precision and the results last longer than those from waxing. It is commonly used on the face to remove the unwanted hair and to shape the eyebrows. It is easier to obtain the perfect celebrity arch by threading than by waxing. We make use of a thread which acts as a mini-lasso on the hair and plucks it off the face.
Threading is substantially less painful than other hair removal equipments and techniques such as waxing, epilators and tweezing. The actions of Shumaila's experienced therapists means that you won't feel the slightest of pain and some clients report it as being relaxing instead. The hair follicle is lifted directly from its root at Shumaila's.  This is an absolutely safe technique and most clients stepping into our Beauty Salon prefer this painless method of hair removal.
Hair grows considerably finer and softer as opposed to other techniques as hair is pulled out from the follicle and that too in a row, leading to systematic hair growth. It is widely acclaimed that threading slows down hair growth eventually, just after 2-3 sessions when visible difference in hair texture and growth can be noticed
Skincare benefits
With Threading, the top layer of the skin is not peeled or traumatised which would otherwise give the appearance of dry skin, redness and little bumps around the area. Dermatologists preferred method of facial hair removal has been threading for decades as they believe it is the most non aggressive method out there that is gentle on the skin. The massaging motion of the cotton thread against the skin further prevents the formation of wrinkles, also making it an anti-ageing measure.
Cost
Threading services at Shumaila's is offered for eyebrows, neck, full face, upper lip, forehead and chin. You can choose to have your full face threaded as well for an overall smoother canvas on the face without any peach fuzz, for better make-up application and effective absorption of skin care.
For threading Price list Click here